Fireworks, gatherings, cookouts and desserts mark the Fourth of July each year. Diabetics should not have to curtail the fun due to their disease. Adaptations to the desserts for the holiday can make them suitable for those with diabetes, meaning Fourth of July favorites like ice cream and apple pie can be enjoyed by all. Find more suggestions for desserts in the resources.
Flag Pudding for the Fourth of July
Beat together four small packages of vanilla or cheesecake-flavored sugar-free instant pudding mix with four cups of milk. Fold in 16 ounces of sugar-free frozen dessert topping, thawed. Pour the mixture into a nine-by-14-inch baking pan. Refrigerate for four hours to overnight. Arrange raspberries in lengthwise stripes across the top of the pie, and use blueberries to make the blue star-field in the top left corner of the pie. The result will be a pudding pie with an American flag in berries on top. (For other pudding pie ideas, see Reference 1.)
Sugar-free Ice Cream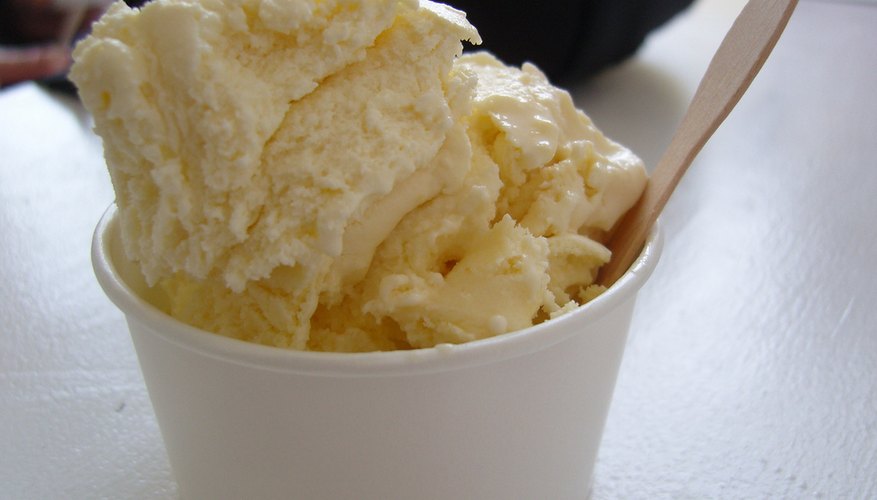 Mix together two quarts of fat-free half-and-half with one cup of granulated sugar substitute and one tablespoon of vanilla extract. Pour the mixture into the drum of an ice cream freezer and freeze according to the manufacturer's directions. (See Reference 2.) Hand-cranked ice cream churns appear at Fourth of July cookouts as a nostalgic way to prepare dessert. Find these at cooking-supply stores. Serve the sugar-free ice cream atop diabetic-friendly apple pie (below).
Diabetic Apple Pie
Peel, core and thinly slice 1-1/2 pounds of Granny Smith (green) apples, and place them in a large mixing bowl. Toss the apples with two teaspoons of lemon juice to prevent browning. In a small bowl, stir together one teaspoon of ground cinnamon, one-half teaspoon of ground nutmeg, one-quarter teaspoon of ground allspice, one-quarter teaspoon of ground cardamon, one tablespoon of cornstarch, and eight teaspoons of granulated sugar substitute. Toss the sliced apples with this spice mix, and pour into a nine-inch pie crust. Cover the pie with the top crust and cut slits in it with a sharp knife. Crimp the edges to seal. Bake the pie at 425 degrees F. for 15 minutes to brown the crust. Lower the temperature to 350 degrees F and bake for 35 to 40 minutes or until cooked through and hot. (See Reference 3.)