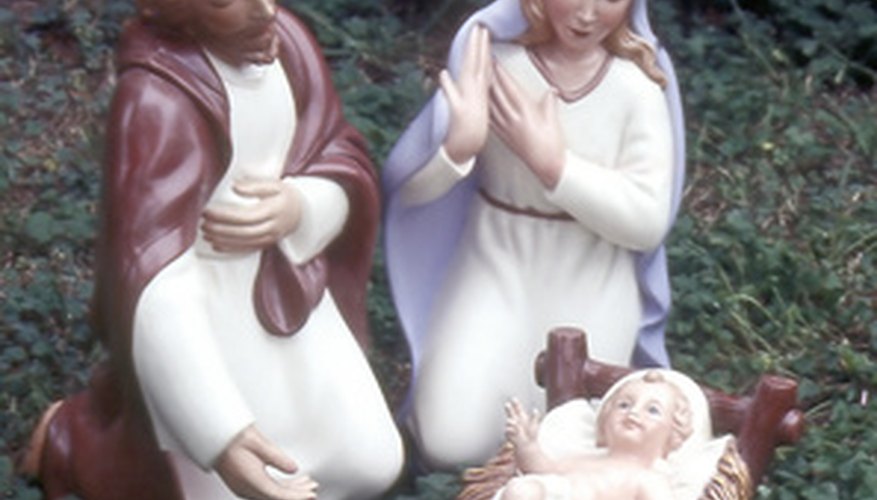 The Nativity scene is an important part of Christmas celebrations. While Christmas trees, wreaths and twinkling lights may seem like the more common decorations, the Nativity celebrates the true meaning of the holiday, because it highlights the birth of Jesus. You may choose to make your Nativity into a life-size outdoor decoration or a simpler tabletop piece.
Select the location and size of your Nativity. If you are setting up a Nativity in your yard, you may want it to be life-size or slightly smaller, or you can make a tabletop nativity with 3- to 4-inch figures.
Create a backdrop. A rough wooden wall crafted from salvaged wood can re-create the stable. For a smaller Nativity, craft two or three walls from Popsicle sticks: Lay two Popsicle sticks down horizontally and glue other sticks down in a vertical fashion on top of them.
Lay straw over the bottom of the Nativity scene. You don't need to cover the entire area, but a thin layer will emphasize that this setting is in a barn.
Create a manger with a rough crate or small box. It should resemble a feeding trough, filled with straw and lined with white blankets.
Choose figures for your characters--wooden carvings, dolls or even figures crafted from fabric or crocheted with yarn (see Resources). You will need a small baby Jesus, Mary and Joseph, three wise men and two or three shepherds. You should have a few sheep, but other animals are optional.
Lay out your Nativity scene with the baby Jesus at the center. The baby may be lying in the manger or held in Mary's arms. All the other figures are angled toward the baby Jesus. Mary should be the closest, with Joseph beside her. The three wise men are usually to the left with the shepherds and their sheep to the right.
Place a star above the scene, mounted to the top of the backdrop or suspended above it. The star should be directly above the baby Jesus. Focus your lighting source--a lamp or a spotlight--so it shines from the direction of the star and focuses on Jesus.