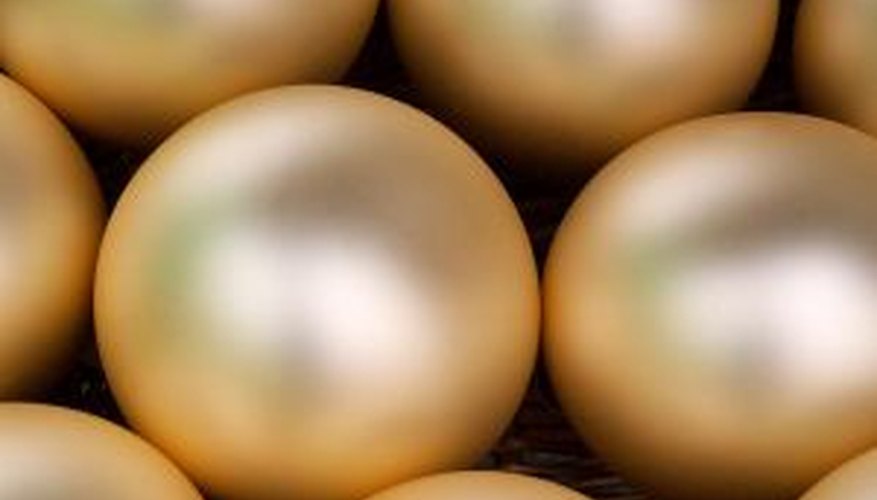 Styrofoam balls make great Christmas decorations. While they can be used to create a happy winter snowman, they are far more commonly used to create original Christmas tree ornaments. Light, inexpensive and safe for children, they come in many different sizes and are the ideal for crafting in a classroom or with the youngest members of your family. These balls make great Christmas gifts for others or can be used to hang on your own tree.
Sketch out your design on a piece of paper until you are happy with it, then use a pencil or marker to transfer the design onto your Styrofoam ball.
Paint your ball. Use a can of spray paint if you want to do it quickly and easily. Don't forget to protect the surrounding area with newspaper or a tarp. Silver or gold metallic, or red and green are good colors to use for Christmas. Alternately, cover the ball with fabric, first spraying it with glue to ensure the fabric clings to the ball. See the link in the Resources section below for a pattern to use on fabric-covered Styrofoam balls.
Add embellishments. Dab the ball with white glue and roll it in glitter, or use straight pins to attach items such as beads, lace, sequins and ribbons.
Include a string looped at the top so that the ball can be hung as an ornament on the tree or hung from the center of a Christmas Wreath. To do this, create the loop, then secure the ends of the strings into the ball with straight pins.