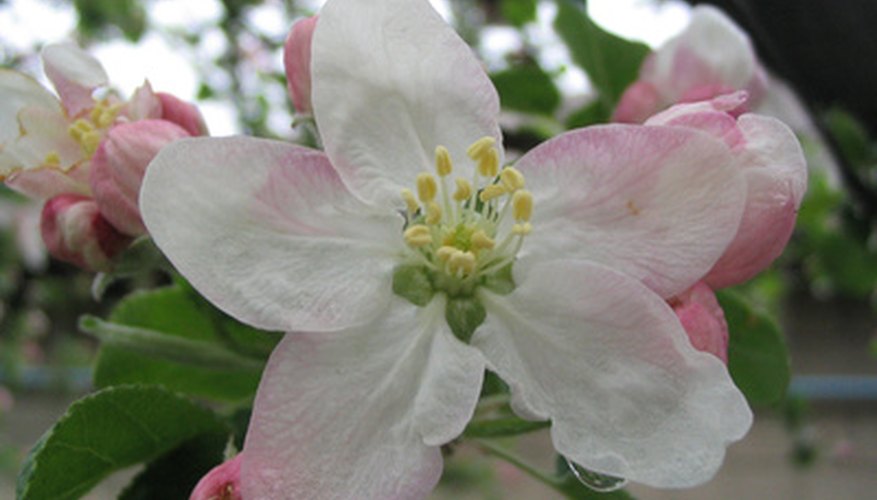 Apple-tree flower image by Viktor Khomenko from <a href='http://www.fotolia.com'>Fotolia.com</a>
Jobe's fertilizer spikes are a long-term feeding option for plants and flowers manufactured by Easy Gardener Products. The company offers fertilizer spikes for flowering trees, fruit trees and general tree and shrub care. Confusion can arise when choosing between spikes for flowering and fruit trees, since fruit trees flower before forming fruits. Examining the difference between these products can help you narrow your options and choose the best Jobe's product for the job.
Uses
The intended use of the two products is different. Jobe's fruit tree spikes are formulated for use on citrus and fruit trees as well as nut trees. Examples include orange trees, pear trees or chestnut trees. Jobe's flowering tree spikes are suited for use on flowering tree types, like dogwood. Both types of fertilizer spikes are advertised as mess-free and hazard-free; the latter claim is supported by the Material Safety Data Sheets (MSDS) for the products. Jobe's fertilizer spikes for fruit trees and flowering trees require no mixing and feed trees throughout all seasons.
Ingredients
The components of Jobe's fruit tree spikes and flowering tree spikes are different. According to the MSDS offered by the company, Jobe's fruit tree fertilizer spikes contain ammonium sulfate, potassium chloride, diammonium phosphate, calcium sulfate, calcium litho red pigment and proprietary binders. Jobe's flowering tree spikes contain ureaform, triple superphosphate, potassium sulfate, hydrated lime, high calcium lime and proprietary binders.
Identification
Jobe's fruit tree fertilizer spikes are light orange. Jobe's flowering tree spikes are gray to light brown. Jobe's fruit tree spikes weigh approximately 115 g each. The flowering tree spikes weigh 1.3 g. The former is listed as having a "distinct fertilizer odor," while the latter are reported as having little to no odor at all.
Nutrient Content
Jobe's fruit and citrus tree fertilizer spikes have a nutrient content of 10-13-13. Jobe's flowering tree spikes have a concentration of nutrients in a 10-10-4 formula. The first number tells consumers how much nitrogen is in the spikes (both are 10 percent). The second number is the amount of phosphorus in the products (fruit tree spikes are 13 percent, flowering tree spikes 10). The third number is potassium (fruit tree spikes 13 percent, flowering tree spikes 4). Nitrogen contributes to green growth and leaves. Phosphorous helps plants take to seed and contributes to root health. Potassium helps in all aspects of tree development, but specifically fruit development.
Considerations
Wash your hands after using Jobe's fertilizer spikes. Avoid ingestion; if it occurs, administer large quantities of fresh water and induce vomiting, and speak to a medical professional immediately. Eye exposure to either type of fertilizer spike can cause burning and irritation. Flush eyes with cool, clear water for 15 minutes. Seek professional help if irritation persists.