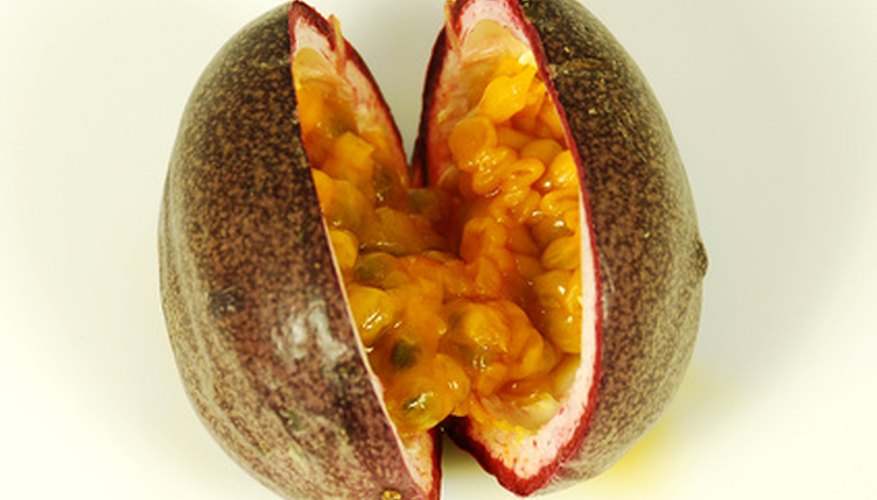 The passion flower vine is one of about 500 species in the family Passifloraceae. Only the distinct variety called Passiflora edulis 'Sims' bears the delicious passion fruit. Large, exotic flowers are fragrant and are pollinated by carpenter bees during the summer. Fruits follow blooming and ripen about 70 to 80 days after pollination. Their flavor is quite appealing, with a musky sweet-tartiness similar to that of a guava. Take the time and effort to savor the sweet fruit of this plant. The bonus is that this is where you'll find the seeds for your new flower passion vine.
Begin checking your passion vine for the formation of tiny green ovoid fruits in late summer when blooming ceases.
Monitor young fruits, which will begin turning purple as they mature to a size of about 2 to 3 inches. Allow completely purple, ripe passion fruits to fall from the vine naturally. Check daily for fallen fruit so that you don't lose any to hungry wildlife.
Collect fallen passion vine fruits and take them indoors. Set them on a counter at room temperature out of direct sunlight to continue ripening.
Use a clean, sharp knife to cut the passion fruit in half when the skin begins to shrivel. Use a spoon to scoop out the pulp. This gel-like material is full of dark brown seeds, which resemble those of watermelons.
Rinse the pulp from the seeds with cool running water. Plant them as soon as possible. Germination rates are highest for seeds planted immediately after maturation.
Refrigerate fruits for eating for 2 to 3 weeks.