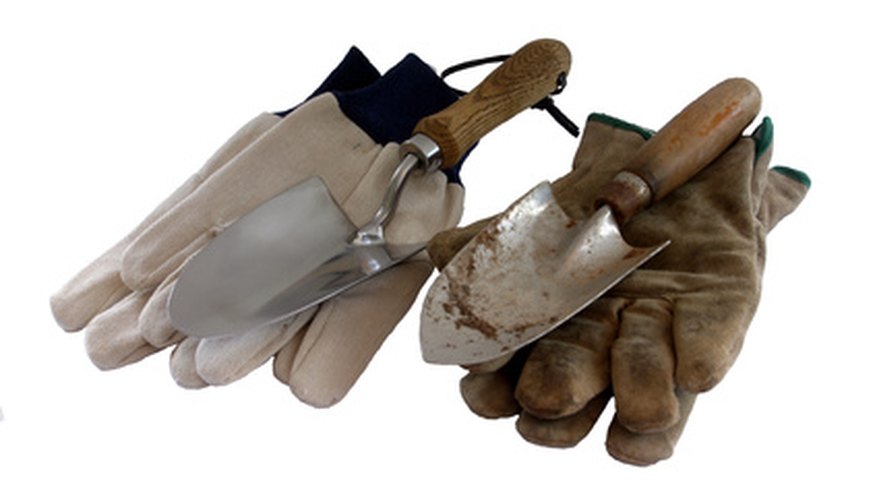 Homeowners and gardeners use soil test kits to determine the pH levels in their gardening soil. According to Elizabeth Stell, author of "Secrets to Great Soil," your soil's pH (or acidity levels) provides an essential measure of the soil's fertility, since it affects the soil's structure and chemistry as well as its biological activity. Obtain a general idea of your soil's pH levels by making your own soil test kit. Although your homemade soil test kit lacks the accuracy and detail of a professional soil laboratory analysis, it provides a simple indicator to let you know if you're on the right track with your soil management.
Gather the materials for your soil test kit. Locate four plastic sandwich bags and stick a piece of plain white tape on the front of each bag for sample labeling. Use a tablespoon for collecting your samples and find two clean, pint-sized canning jars or old glasses for your testing containers. Purchase a box of baking soda, a small container of plain white vinegar and a 1/2 cup measuring cup.
Collect the materials for your soil test kit in two small plastic bins. Put the sandwich bags and tablespoon in one container, along with a box of extra sandwich bags, a roll of white tape and a pen. Mark the cover of this container to indicate that it contains your collection supplies. Collect the testing jars, baking soda, vinegar and measuring cup in the other small plastic bin, labeling it as the testing container. Store the two small plastic bins in a larger plastic bin at room temperature on a shelf that is out of reach of children.
Take the bin of collection supplies and a hand trowel out to the soil area that you wish to test. Scoop 2 to 3 tbsp. of topsoil from two different locations into two of the bags and label them accordingly. Dig two 3- to 4-inch-deep holes in two additional locations. Put 2 to 3 tbsp. of soil from one location into one of the remaining sandwich bags; repeat the same process for the second soil location.
Place 1 tbsp. of soil from each of the four sandwich bags into the first glass test jar and stir the soil samples together with the spoon. Repeat the same process with the second test jar. Pour 1/4 cup of vinegar in the first jar of soil; if the mixture bubbles or fizzes, then your soil is too alkaline. Pour 1/4 cup of water and 1/4 cup of baking soda into the second container; if the mixture bubbles or fizzes, then your soil is too acidic.