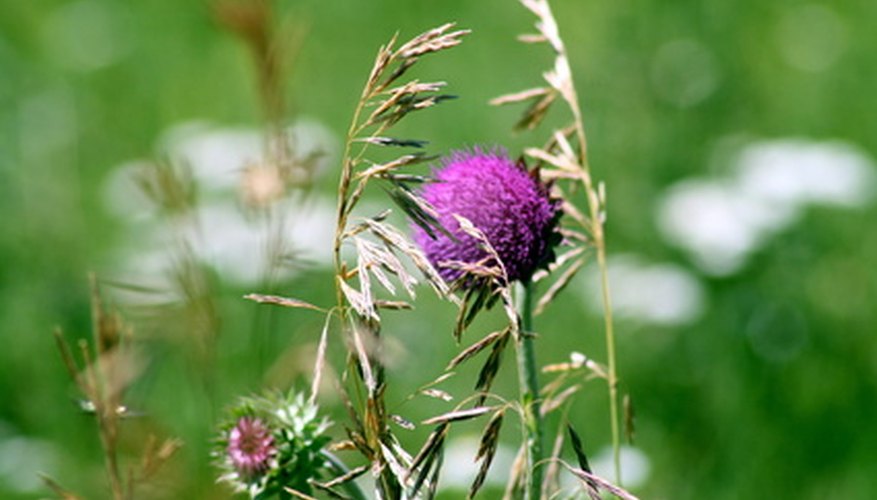 There are dozens of different types of grasses, each suited to a specific climate, temperature and usage. Southern lawns are exposed to greater heat for longer periods than their northern counterparts. Southern lawns also are home to specific weeds that don't thrive in colder climates. When using weed killer for southern lawns, select herbicides formulated to attack weeds indigenous to southern locales.
Weed Killer Types
There are two specific weed killer types -- post-emergent and pre-emergent. Apply post-emergent weed killer to weeds that already exist in your grass. The herbicide needs to be in contact with the weed to kill it. Apply pre-emergent weed killer before weeds show up, to prevent them growing in the first place.
Application
No matter which type of weed killer you're applying to your southern lawn, there are a few rules to follow for maximum benefit and minimum harm to your grass. Apply weed killer during the cooler part of the day -- early morning or early evening. Don't apply to wet grass. Do not use any more herbicide than the manufacturer suggests. Read the weed killer label carefully to make sure it is the best choice for your type of grass.
St. Augustine Grass
St. Augustine grass does well in heat of the South. St. Augustine has broad leaves and a brilliant green color. It can withstand partial shade but does poorly in heavy shade. Weeds that thrive in St. Augustine include hydrocotyle (dollar weed), clover, chickweed and crabgrass. Post-emergent weed killer such as Ortho Weed-B-Gone for Southern Grasses, Spectrum 33 Plus and many others helps control these weeds.
Bermuda Grass
Bermuda grass is a fine-leafed grass used extensively in the South due to its strong tolerance of drought and heat, and its low maintenance requirements. For these same reasons, Bermuda grass is the turf of choice for golf courses, baseball fields and parks. Weeds have a harder time spreading in Bermuda grass because the grass is fast growing and hardy. Apply weed killer in the cooler seasons on Bermuda or the grass will die. Select a pre-emergent weed killer containing MSMA or DSMA, herbicides, effective on grassy type weeds. Two examples are Acme Crabgrass and Nutgrass Killer or Green Light Crabgrass Killer.
Zoysia Grass
Similar to Bermuda grass, zoysia is extremely drought-tolerant and easy to care for. There are three varieties of zoysia grass -- Zoysia japonica, Zoysia japonica Meyer, and Zoysia matrella. All varieties require a weed killer containing MSMA or DSMA, just like Bermuda grass.
Centipede Grass
Centipede grass is an attractive, low-maintenance grass which grows slowly, is salt- and drought-tolerant, and popular in southern regions. Like St. Augustine grass centipede grass is easily infested with dollar weed and other broadleaf weeds. Use post-emergent herbicides for broadleaf weeds and crabgrass.