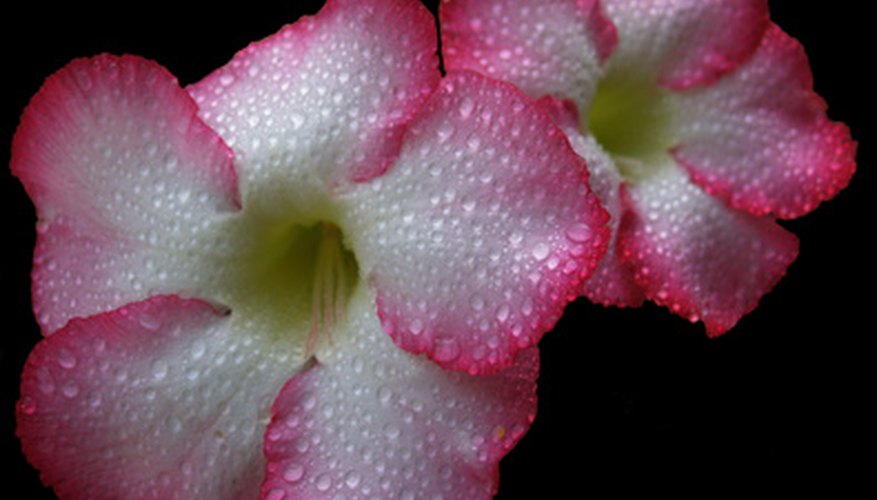 With its colorful, five-petaled flowers, desert rose (Adenium obesum) bears a slight resemblance to plants in the genus rosa. It is not a true rose, however, but a tough desert plant. Because of this, it works well in xeriscapes or dry gardens. Some of these gardens feature distinctive drought-tolerant plants combined with rocks of various sizes. Shrubby desert roses add form and color to rock-based landscaping.
Landscaping With Rocks
Landscape gardening with boulders rocks, gravel and similar materials is not new. The practice owes much to Japan's Zen Buddhist contemplative gardens. The most famous of these gardens is the 15th century masterpiece, Ryoan-ji in Kyoto. More recently, English garden expert Beth Chatto created a famous "gravel garden" in 1992, combining drought-tolerant plant species with ground-covering gravel. Gardeners in the southwestern United States and other desert environments worldwide use stones of different sizes, colors and configurations to surround plants and create dramatic accents.
Adenium History
Adenium, or desert rose, is a distinctive plant featuring flowering branches that rise from the bottle-shaped caudex (round, fleshy stem base). It was discovered in Africa by Swedish botanist Peter Forsskal in 1772. Arriving in England in the first half of the 19th century, Adenium gained popularity and was featured in an 1883 article in Curtis's Botanical Magazine, the preeminent horticultural publication of its day. Now it is grown in botanical gardens like the Huntington Botanical Garden in California, as well as in private greenhouses and outdoor landscapes.
Adenium in Rock Landscapes
Adenium can be used in rock landscapes as potted specimens or planted directly into the ground. Landscapes that use gravel as a ground cover are good for adenium, as the plants require excellent drainage. Raised beds can also house the plants within the context of a dry rock or gravel garden. In climates with cold winters, adenium must be raised in pots and moved indoors in winter. The potted specimens can be placed as accents in a dry landscape.
Adenium Varieties
Gardeners have a number of flowering adenium varieties to choose from, including the pink-flowered 'Desert Rose;' 'Uranus,' with its pink-edged, white blooms; and 'Red Desert Rose,' which has scarlet flowers. 'Taiwan Beauty' sports large pink blossoms with red throats, while 'Black Asia's' flowers are dark maroon with white throats. 'Golden Variegated' features gold and green leaves. Another variety, 'Variegated Pink,' features white and cream leaves and bright pink flowers. 'Flower Language' has blooms of pink striped with red.
Rock Landscaping Care
The main benefit of xeriscaping, with or without rocks, is that the landscape is very easy to care for and needs little water. Adenium grown outside do not usually need supplemental water, as they are native to relatively dry climates. If gravel is used as a ground cover, it also helps conserve soil moisture. Outdoor adenium grown in pots may need occasional water during prolonged periods of drought. Clay pots are preferable, as water evaporates more quickly through the porous material.