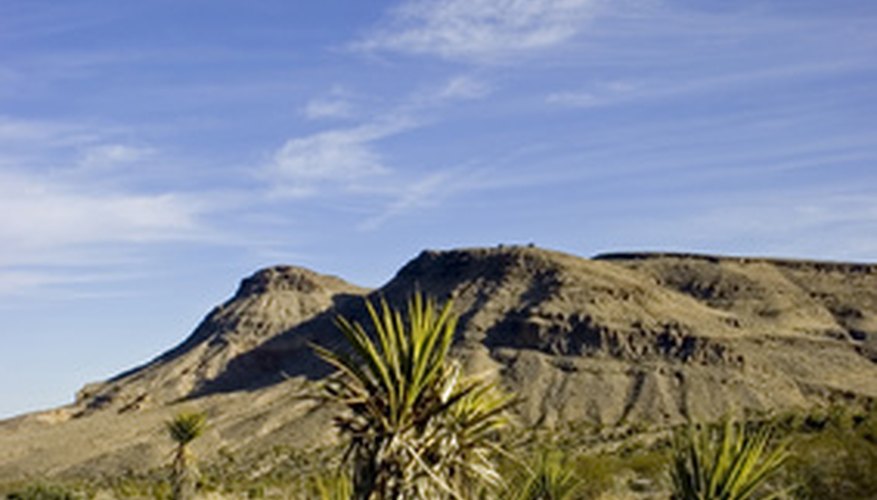 The deserts of California are home to thousands of species of vascular plants. Most are native, but some have escaped cultivation and adapted well to the Eastern regions of the state. Luckily, there are field guides and online resources to help botanists or amateur plant enthusiast identify these plants by name, description and geographical location. This will help determine whether the plants are native varieties.
Field Guides
Whether you are trying to identify a plant near your home or going into the desert to identify plants, it's good to have a field guide on hand for quick identification. This saves you the trouble of making a detailed account of the plant for later identification. Three recent publications that focus on the deserts of California in particular are "The Jepson Desert Manual" by Bruce G. Baldwin, "California Desert Flowers" by Sia Morhardt and Emil Morhardt, and "Mojave Desert Wildflowers" by Pam MacKay.
Photography and Notes
Even if you have a field guide, you may still need to take notes about the region you found the plants in (GPS is handy here), surrounding conditions and any interesting interactions with the environment (such as nests of wild birds in tree limbs). If you have no field guide, be sure to take pictures, make sketches and/or take notes about plant details such as leaf color, edges and shape, bloom shape and petal count, height, width, seed formations and branching habits.
Collecting Samples
Species identified as endangered may be illegal or require a permit to collect samples or entire specimens. Check with your local extension service or the California, the California Department of Fish and Game or the U.S. Fish and Wildlife services to stay up to date on which plants are regulated. If you're free to collect samples, get a leaf, flower, seed, thorn and/or root piece, and store them in a plastic bag in a cool container until identification.
Online Resources
Calflora.org is a nonprofit website created in conjunction with the University of California at Berkley to provide a searchable database of over 8,000 plants found in California. It's best to approach this site with guesses of the plant you've found, as it is only searchable by name, type of plant, elevation and plant community. The Consortium of California Herbaria (also through UC Berkley) allows you to search by region and scientific name. The United States Department of Agriculture also provides a searchable list of plants, but the range is the entirety of the United States.
Sampling of Plants
The Joshua tree (Yucca brevifolia) is an indicator plant for the Mojave desert. It can reach over 40 feet tall, with bunches of sharp, lance-like leaves at the ends of its wide branches. California junipers (Juniperus californica) are common throughout southern California. They stand 10 to 25 feet tall, covered in cylindrical scaled leaves common to most junipers. Its blooms are brownish-blue, berry-like and waxy. California barrel cactus (Ferocactus cylindraceus) is a threatened species that rises cylindrically from the California desert floor. It grows slowly, rarely reaching six feet tall. Its thick coat of red, straight spines curve and turn gray as it ages. The blooms and fruit are bright yellow, and grow on the sunniest side.