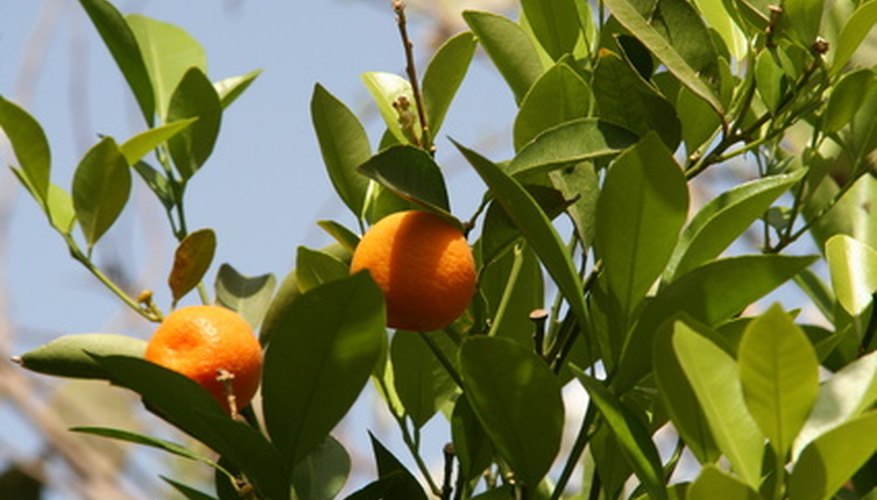 While most often thought of as a tree, the sweet orange (Citrus sinensis), Florida's state flower, is also grown as a shrub. The plant has much to offer. In early spring, the scent of orange blossoms fills the air, especially on warm nights. Later, the plant produces juicy oranges used in home and commercial applications throughout the state.
History
Sweet oranges originated in India, Vietnam and China and were brought to the Americas by Christopher Columbus, according to the World Agroforestry Centre. The camellia and gardenia were two contenders for the honor of state flower, but the orange blossom, which has meant so much to the state's prosperity, was chosen as Florida's State Flower by the Florida House of Representatives and Senate on May 9, 1905.
Identification
The sweet orange is an evergreen tree or shrub that grows to 20 feet high. It has a round growth form and glossy, evergreen leaves. The fragrant, white flowers appear in spring and grow in clusters on the trees. Oranges follow, maturing in fall or winter.
Benefits
It's no wonder the state flower is the orange blossom. As of 2006, the citrus industry provided over $9.29 billion worth of revenue to the state of Florida, according to the University of Florida IFAS Extension. Florida produces 68 percent of the United State's citrus fruit and is second only to Brazil in the world's citrus production. Oranges are used not only for juice and fresh eating, but also for producing molasses, flavorings and cleaning products.
Uses
In addition to commercially grown orange crops, orange trees make good landscape trees or shrubs in the home garden or in parks or along highway medians. Dwarf varieties are most suitable pruned as shrubs. Ornamental varieties produce orange blossoms but no fruit.
Special Events
Many Florida communities host orange blossom festivals. The most well-known is probably the Orange Blossom Festival in the town of Davie. Residents of this small town north of Miami celebrate the arrival of the orange blossoms in early spring with a weekend-long party that features a rodeo, parade, cook-off and concert.