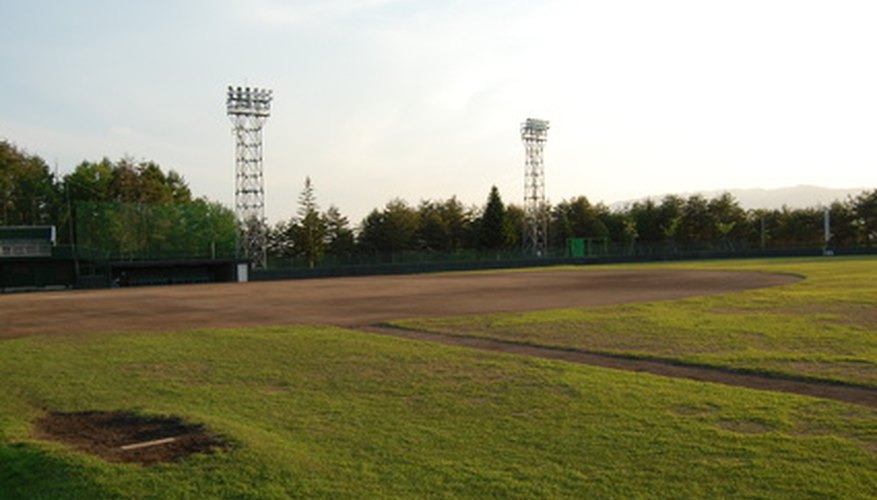 A sterile hybrid Bermuda grass clone, Tifway cannot be started from seed, but only from sprigs or cut sod. Tifway was released by the Georgia Agricultural Experiment Station in 1960 and is still widely used for golf course tees and fairways, tennis courts, athletic fields and residential lawns. Improved strains of Tifway include Tifway II and Tifway 419. All Tifway selections require the same installation and establishment considerations. Bermuda grasses are best grown in U.S. Department of Agriculture hardiness zones 7 and warmer.
Availability
Since Tifway clones are sterile, they are only propagated by sprigs, which include rhizomes, stolons or rooted upright stems. The dense root and stolon matrix of Bermuda grass also allow horticulturists to produce and sell it as shallow sod slabs and rolls for immediate installation. According to Texas A&M University, sprigs are made by shredding pieces of sod.
Preparation
Conduct a soil test on the area designated to become a Tifway lawn. The results provide insight into the natural nutrition of the topsoil and inform you as to what fertilizer formulations are best suited to your location. Bermuda grasses grow well on sandy, loam or clay soil as long as they never become soggy after rains or irrigation. The best soil pH is between 5.5 and 7.0, but up to 8.0 is tolerated. Apply nitrogen fertilizer to the soil surface immediately prior to planting or at the time of planting at a rate of 1 lb. per 1,000 square feet, or 40 to 50 pounds per acre, according to Texas A&M. Weed and grade the planting area prior to planting; tilling soil to a depth of 6 inches followed by raking improves spring planting and sod establishment.
Time Frame
Start a Tifway lawn when soil temperatures are above 65 Fahrenheit. Texas A&M notes that cooler soil temperatures delay or retard establishment; soil temperatures between 68 and 75 Fahrenheit are prime. Sprigs of Tifway should be freshly harvested and planted within two to three days. Protect sprigs from heat and air drying during transport and when planting is delayed on site. Sod is best fresh, too, and avoid exposing moist cut Bermuda grass sod rolls or pallets to hot sun or no air circulation as compost-like decomposition can begin. Plant sprigs or sod no less than two months before the expected fall frost date in your area, according to Landscape-America's website.
Spacing/Coverage
Tifway sod cuttings are laid edge-to-edge to thoroughly cover the planting area. Stagger seams, like a running bond using for mortaring bricks, to prevent uneven wear or drying of the pieces. Secure at a minimum five bushels per 1,000 square feet or 200 bushels per acre of Tifway sprigs. Texas A&M notes that faster lawn establishment of a matrix of roots and leaves occurs when 15 to 25 bushels per 1,000 square feet are planted. One bushel contains 1,000 sprigs. Sprigging is accomplished mechanically or manually. According to Landscape-America, it normally involves planting sprigs 4 to 6 inches apart in furrows planted 1 to 2 inches deep in rows 10 to 18 inches apart for residential, or 20 to 30 inches apart for a large athletic field or golf course. Sprigged areas are lightly mulched with straw and rolled to ensure good soil-to-root contact.
Establishment Considerations
Apply pre-emergent weed herbicide immediately after sprigging to prevent quack grass and sandspur from choking out the Tifway plants. According to Phillip Jennings Turf Farms, Tifway merely survives on 1/2 inch of water weekly. Optimal watering after sodding or spring planting is 1 to 2 inches each week. Modify irrigation as necessary based on weather conditions. Texas A&M recommends maintaining a moist soil for at least two to three weeks to hasten root establishment and get the Bermuda grass lawn off to a vigorous start. Apply nitrogen fertilizer every four weeks during the growing season at a rate of 1 lb. per 1,000 square feet. Anticipate 12 to 24 months for the lawn to be well-established and fully drought-tolerant and ready for typical management practices for Bermuda grass lawns.