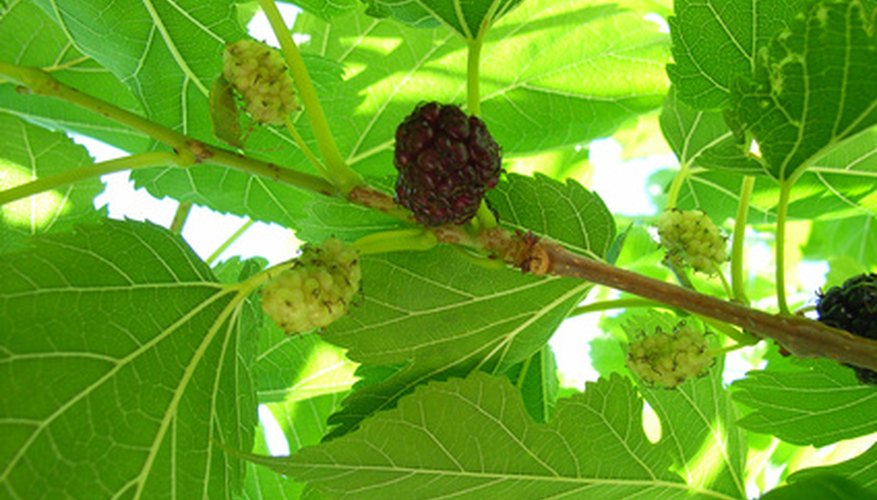 Mulberry trees are native to both North America and Asia and were originally cultivated for use in the silk industry, because silk worms feed on their leaves. In the United States, mulberry trees today are grown primarily as landscaping trees, although their wood serves a variety of purposes.
Characteristics
Mulberry wood is light, dense and somewhat springy, according to the University of Florida IFAS. The heartwood is relatively hard, but is easy to work with when using proper woodworking tools. It easily glues together and holds screws, although it has a tendency to split when nailed, according to Woodworkers Source website.
Manufacturing Uses
Mulberry wood is used extensively for paper making. According to Journey to Forever website, Japanese sculptor Isamu Noguchi used shoji paper handmade from boiled mulberry tree bark for his famous Akari lamps, now regarded as pure modernist sculpture. Mulberry wood is also used for making the Polynesian fabric, Tapa cloth, and for fine furniture, hockey sticks and implements. The twigs are used for making baskets.
Fuel Uses
Mulberry wood makes excellent firewood, according to Volka Supply Chimney Cap Source website. It puts out almost as much heat as oak wood and has a sweet odor similar to apple wood. In South Korea, ethanol is produced from the sawdust of mulberry wood.
Growing Regions
Fruitless white mulberry trees (Morus alba) grow throughout the United States, although they prefer mild climates with moist, well-drained soils. Once established, they are fairly drought tolerant and can survive in hot, dry weather or in urban areas. Young plants develop large crowns quickly, making them top heavy, according to the University of California Cooperative Extension. Stake them to prevent tree injury.
Varieties
White fruitless mulberry trees are most commonly grown and include male varieties such as Stribling, Kingan and Urban. Chaparral is a weeping, non-fruiting variety. Try Morus alba var. tatarica in cold climates.