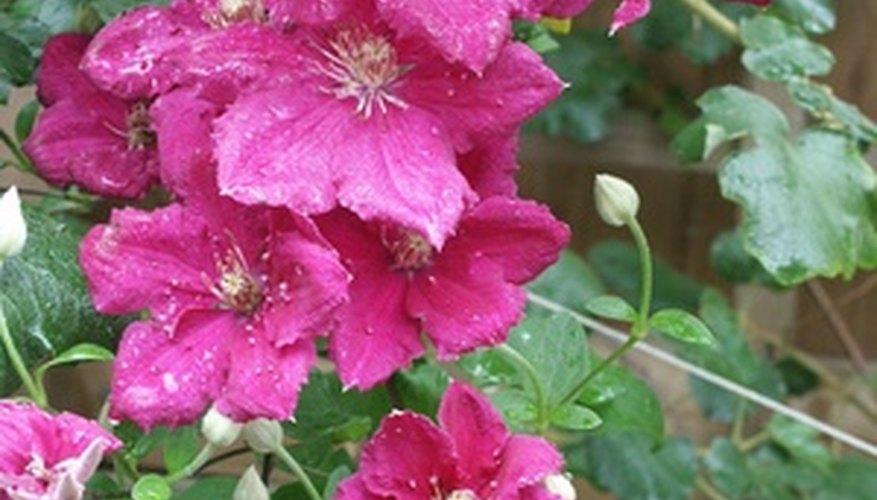 Container vines make lovely patio plants and are identified by their flowers, foliage and fruits. The best container vines are lightweight and easy to maintain. Vigorous, aggressive growers require frequent prunings or they quickly outgrow the container. All vines need a sturdy trellis or support system. Install the support before planting the vine, according to the University of Illinois Extension.
Types
Annual vines and lightweight perennial vines are most often used in container gardening, making it possible to rule out other types when identifying the vine. Heavy, slow-growing vines, such as wisteria or climbing hydrangea are generally not suitable for containers because of their large size. Gardeners in the north rarely grow tropical, frost-tender vines unless they intend to overwinter them indoors, because these plants are expensive and die with the first frost.
Flowers
Morning glory (Ipomoea tricolor, I. purpurea,) is a fast-growing annual that works well in containers. It produces large, round flowers with ribbed centers that open in the morning and close in late afternoon. Its cousin, the moon flower, produces fragrant white or cream flowers that open in the evening. Sweet pea vines (Lathyrus odoratus) produce fragrant, delicate flowers in pink, blue or purple. Black-eyed Susan vine (Thunbergia alata) has bright yellow, orange flowers with black or brown centers.
Leaves
The ornamental sweet potato (Ipomoea batatas) is grown solely for its foliage, which can be purple, chartreuse or a tri-color blend of green, pink and white, according to the Purdue University Horticulture Department. Cardinal climber (Ipomoea x multifida, I. sloteri) has fern-like, feathery foliage.
Fruits or Pods
Several vines produce interesting fruits or pods. Balloon vine (Cardiospermum halicacabum) produce seed pods that look like an inflated, green balloon and are often cut and used in floral arrangements. This plant is considered a noxious weed in some states, making sale of it illegal, according to the Purdue University Horticulture Department. Hyacinth bean (Dolichos lablab, Lablab purpureus) produces purple seed pods, while American bittersweet (Celastrus scandens) produces scarlet red seeds that remain on the vine through winter.
Climbing Habit
Vines attach themselves to structures through several means. Climbing vines such as cup and saucer vine (Cobaea scandens) wrap their branches around a support. Vines that use tendrils, such as balloon vine, have small fibrous stems that wrap around supports. Others, such as English ivy (Hedera helix) or wintercreeper euonymus (Euonymus fortunei) use suction cup-like disklets or aerial roots to attach themselves to structures. These types may damage wood structures.