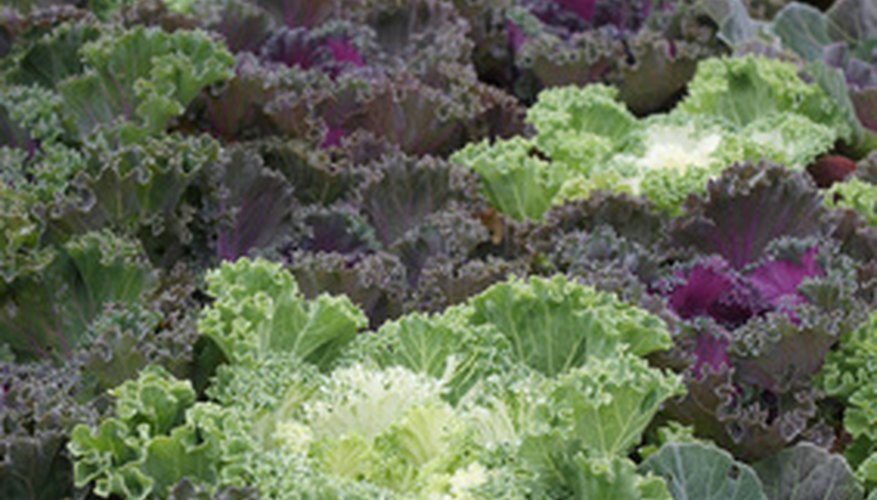 Bed of ornamental cabbage, or kale, focus on white leaves image by GeoM from Fotolia.com
The long, hot summer growing season ends across Arkansas from mid-October to mid-November, when the first killing fall frosts begin. While sensitive plants succumb to frost, planting of cool-season vegetable and annual flower crops continues until December, and the cooler soil temperatures allow dormant woody and herbaceous plants to grow their roots before the ground freezes. Arkansas is located in U.S. Department of Agriculture hardiness zones 6, 7 and 8.
Time Frame
Many dormant trees, shrubs, perennials, cool-season annuals and vegetables are good to plant in the autumn, notes Janet Carson of the Arkansas Cooperative Extension Service. Southern vegetable favorites like kale, turnips, lettuce, spinach, broccoli and cauliflower are first sown from seed in August and then transplanted in September when daytime temperatures do not get above 80 degrees Fahrenheit. October is time for dividing spring-blooming perennials and replanting them as well as planting annuals like pansies and kale to overwinter. November is exceptional for bulb-planting as well as establishing dormant woody shrubs and trees according to Carson.
Benefits
Moisture and soil temperatures above 40 degrees Fahrenheit promote root growth. Rather than plants diverting energy and water into maintaining flowers and foliage, fall planting encourages root establishment before the coldest temperatures in winter. Shorter days discourage the growth of weeds so plants are not competing for the same soil resources. Watering done in autumn keeps the soil moist for a longer period as the plants are not stressed by intense sunlight, heat and only the roots are actively growing.
Planting Preparation
Till garden soil in fall prior to planting of vegetables, annual flowers, newly seeded lawns, or cover crops. Add compost to soil to improve its texture, fertility and drainage for fall-planted plants. Planting of woody shrubs and plants continues statewide as long as the soil is not frozen and workable if not too wet according to Carson. With the exceptions of for cool-season lawns and annual flowerbeds, there is no reason to add fertilizers to soils in autumn at planting.
Considerations
Fall planting activities across Arkansas vary based on latitude or elevation. The first killing fall frost is an important scheduling date as it determines when protective sheets or frost cloth is needed to protect cool-season vegetables as well as when above-ground growth ends for perennials, shrubs and trees. The earlier the expected date of frost, the earlier fall-planting activities begin. Gardeners in the Ozark and Ouachita highlands begin planting earlier and experience an earlier freeze in mid-October than the warmer areas closest the Louisiana border and the Mississippi River, which receive a first freeze in November. Consult the University of Arkansas' "Year-Round Home Garden Planting Guide" (see Resources) for a statewide map of fall freeze dates.
Misconceptions
After planting, Arkansans must continue to monitor soil moisture around plants in the fall as long as the soil is not frozen. Warm, sunny fall days and lack of natural rains while the roots are growing causes stress if the soil becomes too dry. Provide 1 to 2 inches of irrigation to root balls of trees and shrubs weekly to maintain a moist soil. Colder weather later in winter coupled with dry roots leads to plant damage such as twig death and reduced vigor once spring arrives. Carson mentions using a layer of organic mulch helps conserve moisture over roots as well as dissuades weeds.