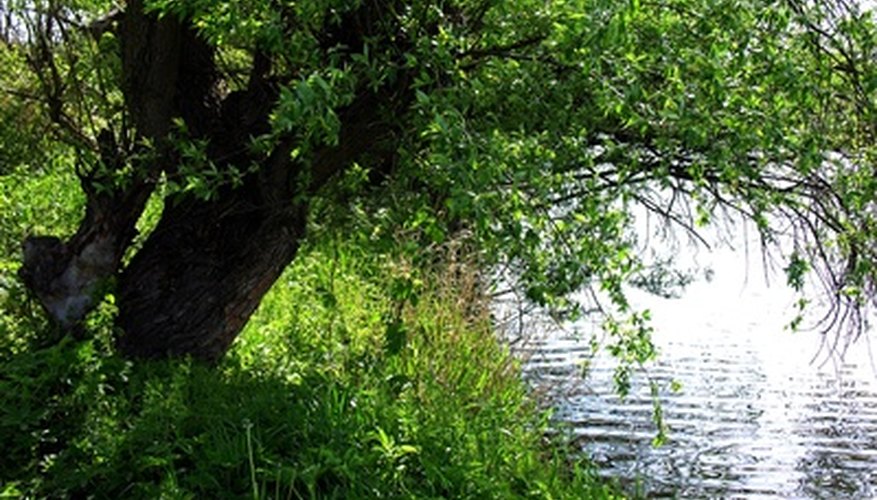 The curly willow tree, or corkscrew willow, is a tender tree that has twisted and contorted branches that can span up to 15 feet. The tree can be cultivated in most hardiness zones and the twisted branches provide interesting patterns, especially in winter when gardens and lawns are in hibernation mode.
Size
According to the University of Florida, the curly willow tree is a small to medium-sized tree that can grow between 25 and 35 feet tall. Branches will spread out and provide a canopy that ranges between 15 and 20 feet wide.
Geography
Using USDA hardiness zones as a guide, according to the University of Florida, curly willow trees are hardy in zones 4B through 8A. These zones cover most of the continental United States and curly willow trees can be found throughout the country.
Features
The curly willow tree, or Salix matsudana tortuosa, is a fast-growing tree often used in bonsai design. The tree does well in both full sun and partial shade, but has a root system that often grows upwards, making it a difficult tree if planted near any road or concrete.
Considerations
The curly willow is susceptible to frost due to its rapid growth rate and weak limb structure. Frost can kill new buds and sometimes damage the tips of branches. To protect a young willow from the elements, consider covering the tree during early frosts. If frost kills any of the branches, the branches should be pruned as soon as possible.
Identification
It is easy to recognize a curly willow tree by the distinctive curly branches that often grow vertical first and then branch horizontal. Curly willow trees have leaves that are green in summer and turn brown in fall, according to the University of Florida.