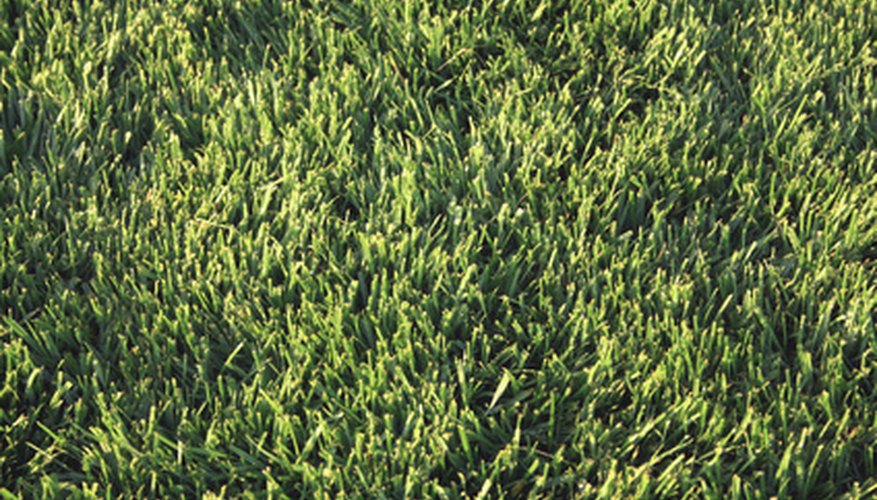 Thatch patches and brown spots are two common ailments for the typical North American lawn. Thatches are easily identified by their early spring appearance and wild-looking plant growths. Brown spots, on the other hand, often do not develop until summer when temperatures have risen. It is important to know the difference so effective solutions can be devised.
Thatch
Thatch patches present themselves as thick brown layers of roots and stems all lumped together in a single area. They become wild nests for insects looking for a safe place to reproduce and for a variety of fungal disease like brown patch, which will lead to further destruction of the lawn. The easiest way to prevent the development of patches is to seed the lawn with a perennial ryegrass and fescues that will eliminate or control the untamed spread of thatch.
Control
There are numerous methods for dethatching a lawn. Using a dethatching rake is an effective way to manually remove large portions of thatch. This is a gardener's first step in cleaning up lawns and preventing thatch from spreading further. Gardeners also can use aeration--removing plugs of soil-- to allow water and air to reach the grass roots and kill microorganisms and fungi that will be brought to the surface and dried out. Over-seeding and watering deeply, but infrequently, should help grass grow healthy and thick.
Brown Spots
There are many reasons for brown spots to develop in the summer, making it difficult to pinpoint the exact cause and develop a reasonable solution. Female dog urine and scalping grass patches are the most common reasons for brown spots to develop, though there are others. Female urine can be controlled by over-watering after urination. This will minimize the acidity and prevent damage to the lawn. Oil and scalping cause grasses to burn and wither with the heat of the sun. The only solution is to reseed and wait for grasses to grow back.
More Brown Spots
The most common reason for brown spots is a drain in water within the soil. This can take place in a variety of ways. Heavy clay soils can cause brown spots when they are compacted by human or animal footsteps. Clays packed togethe limit the amount of water absorbed. Core aeration for the lawn will help prevent this possibility by returning air and water to the roots. Another problem is the spread of tree roots that compete for water with the grass, according to the Colorado State University Cooperative Extension. This can be a difficult problem to deal with since lawn grass roots are much weaker than tree roots. Water directly beneath the tree more regularly to help provide grass with additional resources.
Oil and Heat
Oil from lawnmowers and leaf blowers will kill grass and leave behind brown spots. Being aware of this and paying attention to where and when oil spills is the best way to prevent future destruction. Watering down oil is not recommended as it can carry the oil to other parts of the lawn. Hot weather alone can dry out grass and leave behind large, brown, dead patches. Frequent watering and the use of automated watering systems are the most common ways of dealing with this threat.