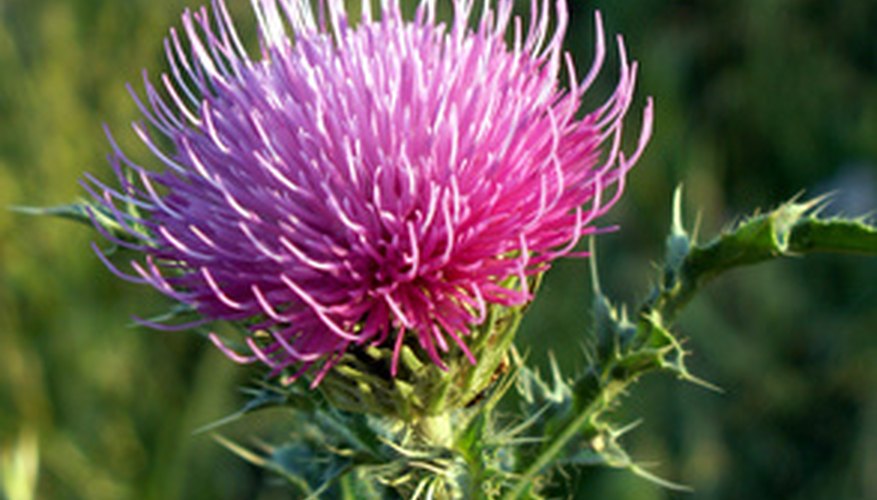 No one species of thistle is common to all parts of Nebraska, although the state has identified three species that are the most widespread. The popular designation "common" depends on where in Nebraska a particular species grows. The botanical name listing the plant genus and species, called its binomial name, always provides the most accurate identification.
Common Nebraska Thistles
The Nebraska Department of Agriculture lists three species of invasive thistles that are most widespread in Nebraska, including musk thistle (Carduus nutans),Canada thistle (Cirsium arvense) and Plumeless thistle (Carduus acanthoides). The agriculture department also lists the yellowstar thistle (Cirsium ochrocentrum) on its list of "Other Invasive Plant Species."
Most Common
Carduus nutans, popularly called the musk thistle, is native to Asia and Europe and was first identified in Nebraska in 1932. It now infests some 2.4 million acres in the state. Although it is especially abundant in central and eastern Nebraska, it is widespread throughout Nebraska, growing in open woodlands, fertile lowlands, pastures and rangeland. It is found only in isolated pockets in the sandhills of western Nebraska.
Musk thistle grows from 1 ½ to 10 feet tall and has flower colors like rose, purple or white. Carduus nutans has dark green, waxy leaves that are hairy on top and woolly on the veined bottoms; the leaves have sharp spines at the tips, colored an off-white or yellow brown. Mature seedheads, which yield purple, rose or white flowers, commonly droop at a 90- to 120-degree angle.
Common
Cirsium arvense is the botanical name of what is popularly called the Canada thistle. Cirsium arvense spreads aggressively along ditch banks, beside roads, in mud flats, on the banks of lakes and streams, in cropland, range land and pastures. It is found everywhere in Nebraska except the extreme southeast. It infests some 450,000 acres in Nebraska. Cirsium arvense was first listed as a noxious weed in Nebraska in 1873.
Other popular names for the Canada thistle include the Creeping Thistle, California Thistle, Prickly Thistle and Field Whistle. The thistle grows from 1 to 4 feet tall and has lobed leaves with spines at the edges. It bears pink or purple flowers.
Widespread
The plumeless thistle (Carduus acanthoides) usually grows in pastures and range land. It was first spotted in Lancaster County in 1930 and now infests about 65,000 acres in all areas of the state, although it is more common in northeastern Nebraska.
The plumeless thistle grows from 1 to 5 feet tall and has wrinkled leaves with teeth and spines. It produces purple flowers from June through August.
Also Found
The yellowspine thistle (Cirsium ochrocentrum) is on the state's "Other Invasive Plant Species" list, but no details of its growth pattern in Nebraska are given. The yellowstar thistle ordinarily grows on the sides of roads and other disturbed areas. Cirsium ochrocentrum grows up to 3 feet tall and has a woolly stem, spiny leaves, and produces a head of lavender, pink or white flowers.