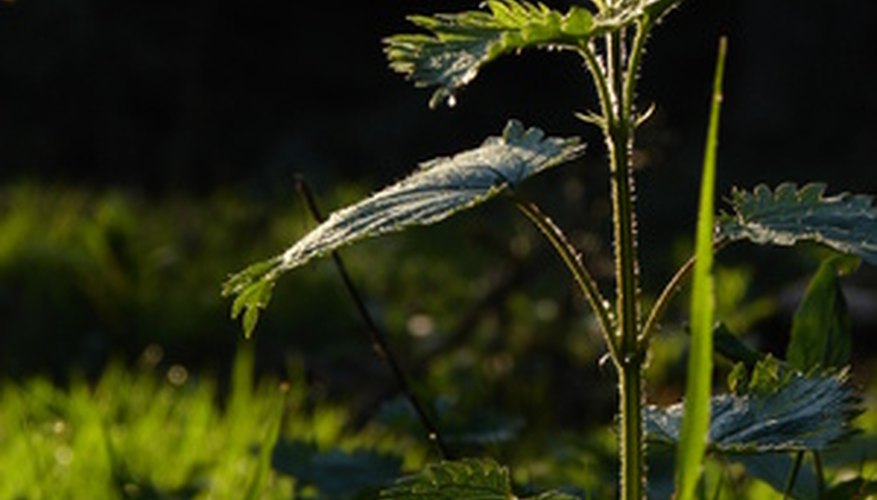 Bull nettle (Solanum carolinense), is known by many names, including sand brier, bull thistle and horse nettle. This North American native herbaceous weed propagates by both seed and rootstocks. Growing in pastures, fields and cultivated ground, the bull nettle invades all types of crops. Although known as tenacious and difficult to control, frequent herbicide application may reduce the invasion of this weed.
Effective Herbicides
Traditional herbicide options for bull nettle weed control include both 2,4-D and MSMA, both marketed under various trade names. In 2006, Dow AgroSciences introduced a new active herbicide ingredient, aminopyralid. Found in the marketed trade name Milestone, this herbicide provides effective control on bull nettle and other thistles, according to the University of Missouri Integrated Pest and Crop Management.
Function
All bull nettle-effective herbicides work as growth-regulating, post-emergence herbicides. The application of the herbicide to the leaves of the plant leads to the transportation of the chemical throughout the plant's system. The herbicide acts as a synthetic growth hormone within the plant. Symptoms of herbicide poisoning in broad-leaf and herbaceous plants include the twisting and downward curve of leaves and stems.
Application
Herbicides effective against bull nettle are applied through a liquid spray. The Samuel Roberts Noble Foundation recommends application when spring is transitioning into summer for bull nettle, thistles and brambles. When soil moisture levels are conducive for plant growth, the plant easily absorbs the herbicide. Spraying bull nettles when they are in bloom provides protection against next year's seed crop of weeds.
Benefits
Bull nettle is listed as one of the most troublesome weeds found in pastures by the University of Missouri Extension. Bull nettle and other weeds compete with forage grasses and crops for nutrients, sunlight and water. Many weeds produce compounds that prevent the healthy growth, efficient harvesting and safe storage of crops. The elimination of bull nettle from forage pastures results in a high-quality forage, better growth rates and increased livestock production.
Considerations
When using an herbicide on bull nettle, always follow all directions for use found on the product label. Individuals involved in the application process should always wear long clothing and chemical-resistant gloves. Eye protection and rubber boots are recommended for anyone mixing or loading chemicals. Most herbicides cause severe skin, eye and lung irritation. When applying herbicides to pastures infected with bull nettle, take into consideration how the wind will affect the spray drift of the herbicide to protect buildings, animals and other plants.