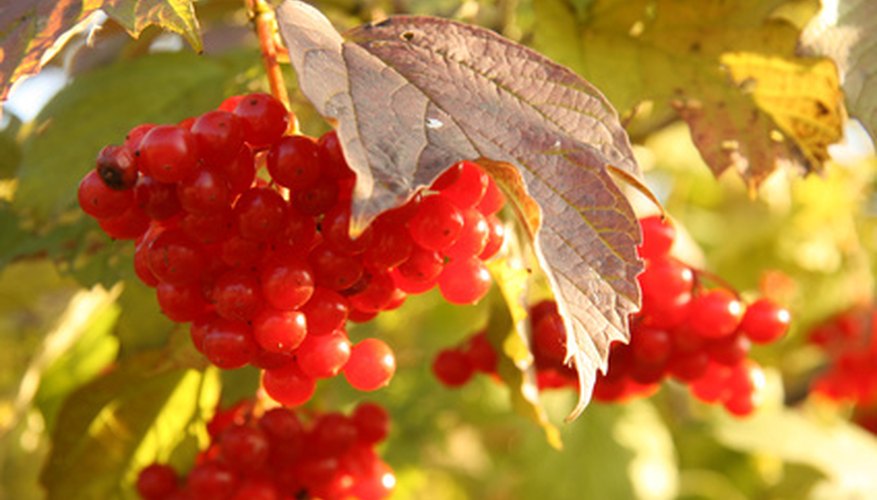 Cluster of berries of a guelder-rose red image by YURY MARYUNIN from Fotolia.com
One of the most important American plant breeders important to the understanding of viburnum breeding is Dr. Don Egolf of the U.S. National Arboretum. He used naturally cross-pollinating shrubs as well as extracted seed embryo tissue culture to create many modern viburnum hybrid shrubs and cultivars. Egolf's investigations and patience provided tremendous insight into the genetics, relationships and procedures for crossing different woody plants.
Self-Fertility
On the whole, species of viburnums are self-fertile, meaning that the pollen from a plant will successfully fertilize female blossoms on the same plant, yielding a crop of fruits. Michael Dirr, renowned woody plant expert at the University of Georgia and author of "Viburnums," comments that fruit production is increased when another similar or closely related viburnum is nearby to supplement cross-pollination of the plants' flowers.
Open Pollination
"Open pollination" refers to the natural, uncontrolled exchange of pollen from viburnum plants' flowers. Wind and insects are the natural vectors of transferring pollen to the female flower parts called the stigmas. The resulting seeds in the fruits are a random hybrid blend of genes from whichever plants acted as the male (pollen-supplying) viburnum.
Taxonomic Sections
Dirr says taxonomists have increased understanding of genetic relationships among viburnums thanks to DNA analysis at the molecular level. Since the 1980s, botanists noted that successful cross-breeding of viburnums is found among plants within the same section. The sections of viburnum are grouped primarily on the structure of the wall of the seed. As of 2010 there are 12 sections: Lobata, Succodontotinus, Megalotinus, Tinus, Oreinodontotinus, Mollodonototinus, Opulus, Lantana, Lentago, Pseudotinue, Solenotinus and Tomentosa. Plants within each section are close genetic allies and more easy cross-pollinate to create new, viable hybrid plants.
Breeding Protocol
Egolf, Dirr and other woody plant breeders used much of their work with hydrangea breeding to tackle cross-pollination of viburnums. Egolf noted that viburnum shrubs that were covered with plastic bags (and could not receive pollen from other viburnum flowers but only from the stamens of its own flowers) didn't yield any fruits. Controlled cross-pollination was done successfully by removing the pollen-producing stamens from the flower to be pollinated. Then, a small brush gathers the pollen from the desired "father" shrub and is smeared onto the female stigma in the flower on the "mother" shrub (the flower that had its stamens removed). A reciprocal cross between viburnum shrubs is necessary (the mother plant also supplies pollen to the female stigma of flowers on the father plant). Interestingly, Dirr notes that in some cases of breeding, cross-pollination is successful in one direction but not the other.
Considerations
When attempting to cross different viburnums, the challenge of different flowering times/seasons can be overcome. According to Dirr, viburnum flower pollen is storable in cool location for up to six months. Or, cuttings of branches can be exposed to cooler or warmer air temperatures to manipulate when flowers open and shed pollen to facilitate the desired cross-breeding attempt.