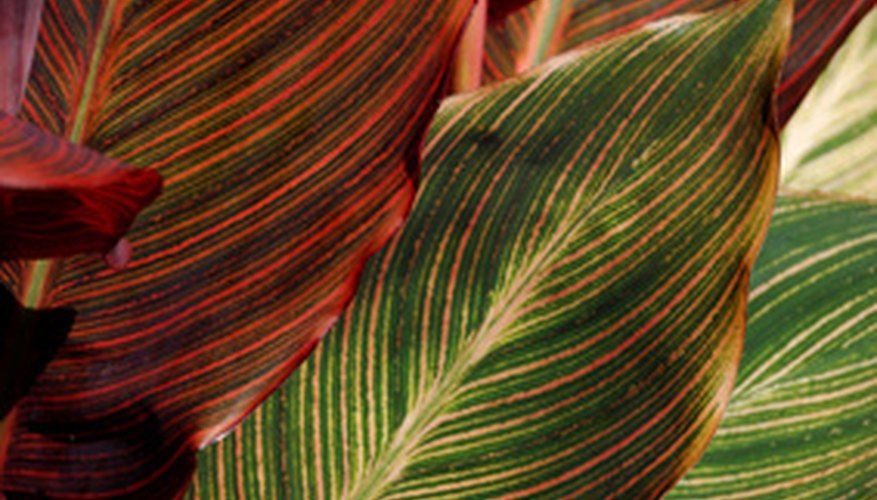 Plants that hail from the tropics often produce stunning foliage and colorful blooms that keep the garden vibrant and showy. The oversized foliage creates a strong architectural line to landscapes like garden walkways, entryways and perennials beds. They grow in a wide range of sizes and shapes, each with its own distinct growing requirements, so you are bound to find one that fits perfectly within the garden.
Canna
Canna (Canna) is a large tropical plant that grows up to 8 feet tall and 6 feet wide, creating a commanding landscape presence. They produce tall, gladiolus-like flower spikes that bloom in summer and sit atop their erect stems. Flower colors on the canna include, yellow, red, orange, pink and some variegated varieties with more than one color swirled together. The large, dramatic, paddle-shaped leaves on canna plants come in shades of bronze and green, as well as striped varieties. Foliage is stunning when the plants are not in flower and provide a strong ornamental display to the garden. Canna grows best in full sun and well-drained, nutrient-rich soil that is moist. Plant in USDA zones 7 to 10.
Banana
Banana (Musa acuminata) is a large, evergreen shrub native to the tropics. It has a vigorous growth rate and reaches a maximum height of 20 feet and spread of 6 to 10 feet wide. Banana shrubs are noted for their ornamental foliage that produces oversized, paddle-shaped, deep green leaves that retain their brilliant color year round. The yellow to cream flowers emerge in summer and are followed by the edible yellow fruit. Banana plants can be grown indoors as a houseplant but require a significant amount of space. They grow best in full sun, although tolerate some shade and filtered sun in overly hot days. They thrive in well-drained, organically-rich soil and do not tolerate dry soil. Grow banana plants in USDA zones 10 to 11.
Hibiscus
Hibiscus 'Kopper King' (Hibiscus 'Kopper King') is a tropical perennial flower that bears stunning copper to red leaves with an orange and red underside. Their 10- to 12-inch-wide, ruffled, pale pink to white blooms have a distinct center or "eye" and blooms from midsummer into fall. The large disc-like blooms bring butterflies to the garden. Hibiscus 'Kopper King' grows 3 to 6 feet tall and 1 to 3 feet wide and has a clumping growth rate. It grows best in full sun to part shade and moist, nutrient-laden soil. To promote a long flowering season, deadhead 'Kopper King' regularly. Plant in USDA zones 4 to 9.