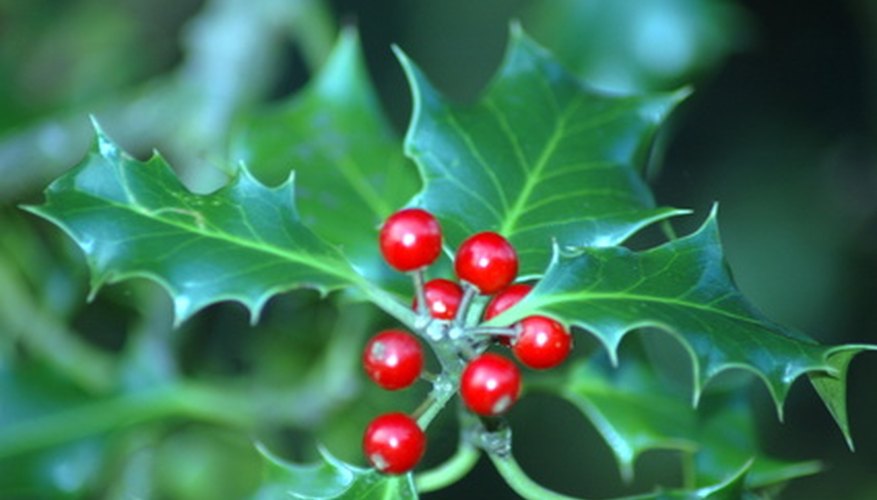 Holly, for many of us, means the the bright red berries and glossy green leaves that brighten winter festivities. More than 500 holly species (Ilex spp), however, grow across the United States, according to former University of Florida extension horticulturist Dewayne L. Ingram and former assistant William E. Barrick. The flowering trees' berries may be yellow, orange, black or red. The leaves can be variegated or solid green. Seven species of the up-to-60-foot tall trees are native to Texas.
Species
The Lone Star State's seven holly species include American holly (Ilex opaca) and yaupon holly (Ilex vomitoria)--the state's most common holly tree. The others are: inkberry holly (Ilex coriacea), also called baygall bush; Georgia holly (Ilex longipes); Carolina holly (Ilex ambigua); winterberry (Ilex verticillata) and possumhaw holly (Ilex decidua).
Height
In the best conditions, Texas' American holly trees can grow to 60 feet high, says Texas A&M. Twenty-five to 30-foot trees, however, are much more common. Yaupon trees grow from 4 to 30 feet, with most in the 10- to 20-foot range. Inkberry, Carolina and winterberry hollies top out at 15 feet high. Possumhaw normally stands between 8 and 12 feet tall, and Georgia holly, between 6 and 12 feet--although it occasionally reaches 25 feet.
Flowers and Berries
Spring flowers on Texas' American, possumhaw and yaupon holy trees are insignificant and greenish-yellow to pale green. The other four species have visible white blooms. Georgia, Carolina, and winterberry leaves produce red berries. Possumhaw, yaupon and American holly trees may have yellow, orange or red fruit, with female possumhaw trees putting on a dazzling fall display. Inkberry trees, as their name suggests, have black fruit.
Geography
Possumhaw is the most widely distributed of Texas' seven holly species. It thrives throughout East Texas, into the southeastern and central parts of the state (and in one far west county), according to the USDA. At the other end of the spectrum is winterberry, found only in Orange County on the Louisiana border. Yaupon grows across East Texas to the central part of the state. The other four varieties grow in East Texas, with American holly the most widespread. Georgia, Carolina and inkberry trees grow in eight East Texas counties.
Growing Conditions
All of Texas' holly varieties grow best in full or part sun, although both yaupon and winterberry will tolerate shade. They all need acidic soil. Carolina holly, possumhaw and American holly like sandy or loamy soils along stream banks. Winterberry thrives in bogs or other wet environments. Drought-tolerant yaupon is the state's most adaptable holly, flourishing in a wide range of soils. It performs best, however, in moist locations.