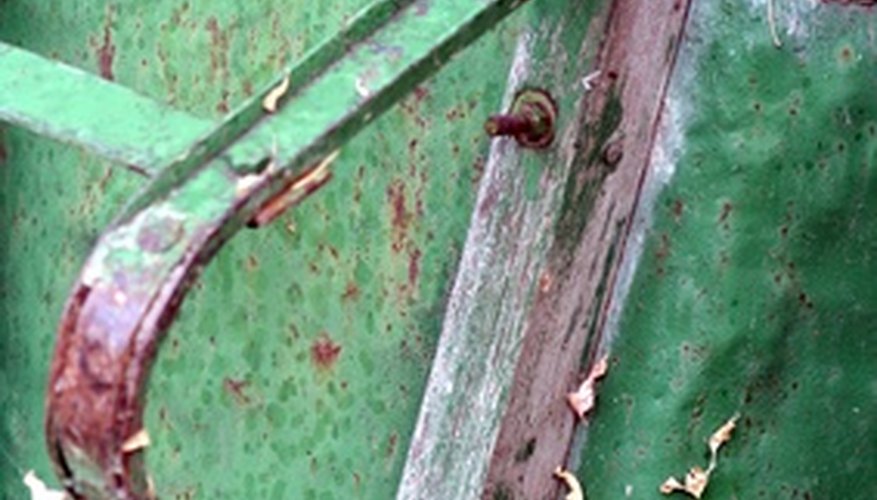 Over time, wheelbarrow handles will give way and break. When this occurs, you can make a set of handles yourself and save some money. While most home and garden stores will sell replacement handles, the lumber department will have exactly what you need. The handles do not take long to make but do require a couple of power tools. It is a good idea to keep one of the old handles as a pattern before tossing it in the trash.
Remove the old handles from the wheelbarrow. In most cases, the handles are held to the wheelbarrow with a 1/4-inch square-neck bolt and a 7/16-inch nut. Retain all four bolts and nuts. Keep one handle for an overall pattern.
Set the table saw rip fence to a measurement of 2 inches between it and the side of the table saw blade. Cut the 8-foot 2-by-6 into two pieces that are 2 inches by 1 1/2 inches.
Mark the two new handle pieces to length using the old handle as a pattern. Cut the two pieces with the handsaw.
Lay the two new handles on a flat surface. Set the old handle next to them. Transfer the bolt holes to the new handles.
Insert the 1/4-inch drill bit into the drill. Drill the bolt holes in the new handles.
Place the 1/2-inch paddle bit into the drill. Drill the pocket hole for the hardware nuts. Copy the old handle for correct depth. In most cases, the pocket holes will be approximately 3/4 inch deep. Center the pocket hole on the 1/4-inch bolt hole.
Round the square edges of the handles with the wood rasp. Lay the old handle next to the new ones for the correct length of the overall rounded area.
Install the new handles on the wheelbarrow using the old hardware.
Things You Will Need
7/16-inch socket and ratchet (optional)

Table saw

2-by-6 board, 8 feet long

Tape measure

Handsaw

Drill

1/4-inch drill bit

1/2-inch paddle bit

Wood rasp
Tip
You can treat the new handles with a wood sealer if the wheelbarrow is to be kept outdoors. Extreme weather conditions will accelerate the rotting process in most types of wood.