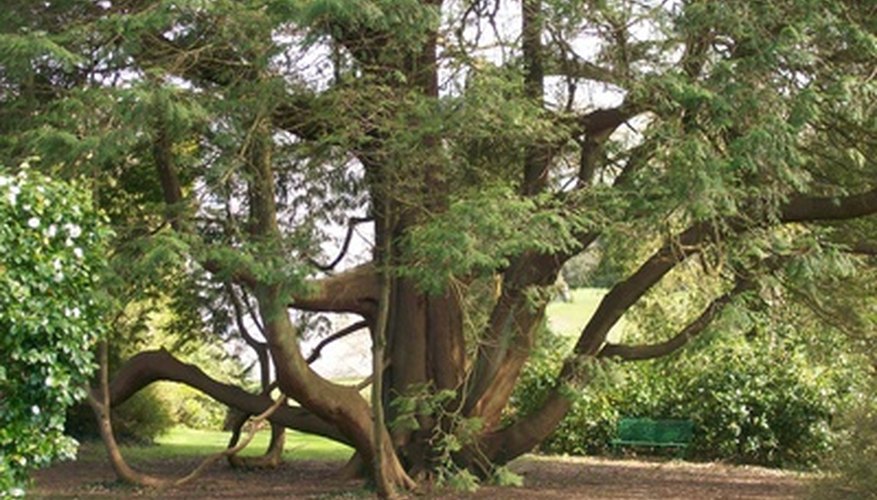 Red Cedar at Picton castle April 2008 image by David Stirrup from Fotolia.com
Cedar-apple rust is a complex disease that lives for two years and spreads between two different hosts within that period, the red cedar and a rosaceous tree. On cedars, cedar-apple rust appears as orange growths.
Symptoms
Cedar-apple rust is brought on by the gymnosporangium juniperi-virginianae fungus. Spores spread during the winter leaving large, greenish brown swelling on the leaves. As the swellings mature, brown galls appear infecting the branches of the tree. The infection will continue to spread leaving orange, gelatin-like horns that appear during the spring that grow to about an inch in length.
Cedar Host Cycle
During dry weather in autumn, fungal spores are spread by wind to distances of up to 5 miles until they reach and infect a cedar host. The airborne spores attach to cedar leaves and throughout winter will develop into round, brown stem galls. Moisture helps the infection swell into what resembles small oranges that develop into telial horns that grow from the depressions on the galls. The horns will shed billions of spores during the following season's rain.
Cedar-apple rust can kill twigs and branches that they infect, and remain on the host tree for another whole year. Temperatures ranging between 55 to 60 degrees Fahrenheit allow for quick fungal germination and development for cedar-apple rust.
Monitoring
Cedar trees should be monitored closely when cedar-apple rust infection appears. Awareness of wind direction and leaf wetness can help aid in the selection of the most effective fungicide between potential infections. If rust lesions appear within two to four weeks of infection, gardeners can collect them and determine if they they are still capable of sporulation.
Control
Proper sanitation of new plantings of healthy, resistant variations of cedar can reduce the chances of infection. Gardeners can also remove and bag orange and brown galls prior to sporulation. Released spores can travel between hosts making it harder to remove infections.
Fungicides
It is important to check with local authorities before applying fungicides. Common fungicides containing sulfur are effective against killing infections present on trees, although removing cedars within a two-mile radius will help aid in the elimination of the disease by preventing reinfection.