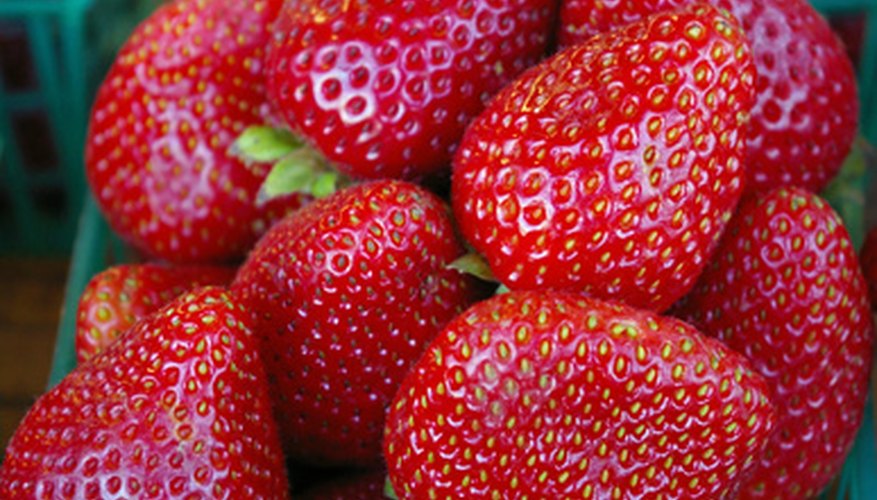 The temperate subtropical and tropical climate of Florida allows year-round fruit growth to occur. The area produces large commercial crops of citrus, strawberries and blueberries. Each region also offers the public the opportunity to enjoy many "u-pick" farms. With a virtually endless supply, Florida is a fruit mecca. Picking season also provides abundant jobs to the local population, which helps stimulate the regional economy.
Commercial Harvest
Florida (along with California, Texas and Arizona) produces a great deal of the worldwide citrus harvest each year. The state also ranks second in the United States in strawberry production–with both summer and winter fruit harvests each year, according to the USDA Regional IPM Centers Information System.
Fruit Picking History
Manual fruit picking in Florida is widespread. Berry fields are harvested through handpicking mechanisms. Approximately six to nine workers can successfully pick and grade a field of strawberries. Citrus trees are picked predominately through mechanical tree shakers. The shaker shakes the trees so the ripe fruit falls downward onto nets. A few shakers require ground harvest once the fruit falls off the tree.
Lemon Picking
Commercial lemon picking begins in mid-July and extends into October for fresh-fruit shipping practices, according to Purdue University. Lemons are handpicked, as they have a delicate skin and can be easily damaged during harvest. The fruit cannot be picked when wet due to its susceptibility to oil spotting damage. The handpicker grades the fruit on size and color as each one is picked.
Fruit Harvest Times
Florida is home to miles and miles of apple orchards, which are predominately in the northern and central regions of the state. The apple farms in Florida harvest commercially, but most also open their orchards to host public picking. Self-pick blackberry farms begin to allow public picking in May. Southern highbush and rabbiteye blueberry picking begins in April. The state offers one of the earliest fruit picking seasons (beginning in May) in the nation for peaches and nectarines.
Fruit Picking Shipments and Festivals
During harvest season most commercial farms offer shipping in decorative gift boxes. The fruit are picked fresh and shipped worldwide. The state also boasts numerous fresh fruit picking festivals. In Plant City, outside Tampa, the annual Strawberry Festival is held with fields open for local public picking and many functions geared around strawberries. The festival boasts live music and a carnival-like atmosphere.