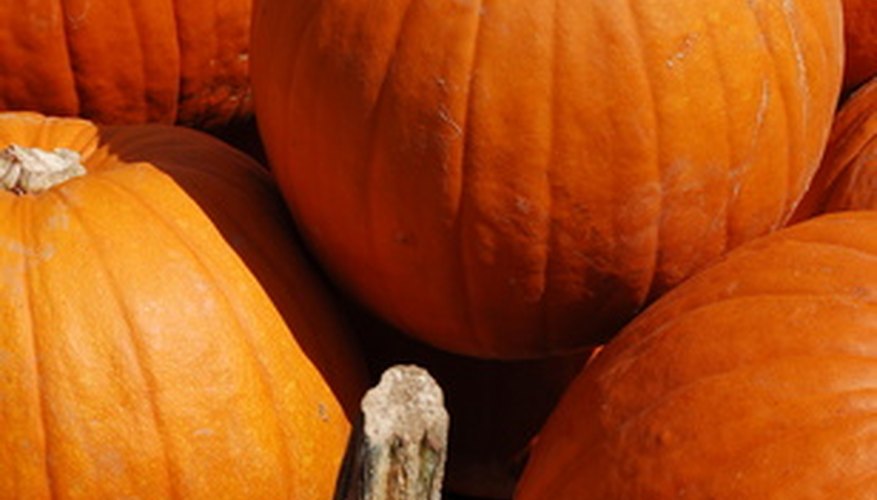 Gardeners and farmers need to protect their crops from a variety of pests. Pumpkins suffer from potential nutrient loss due to weeds, grass and broadleaf foliage which invade the soil and limit space for growth. Pre-emergent herbicides will limit seed development of the weeds and prevent the outbreak and spread of weeds.
Location
Pre-emergent herbicides should be applied directly onto the pumpkin patch, not under row overs or plastic mulch. These types of herbicides need to be mixed into the soil where they will be absorbed by weed seeds. Manual turning of the soil or natural mixture due to rainfall are both practical.
Frequency
The herbicide should be applied about four to six weeks after pumpkin transplants have been planted. During that time, the plants will re-root themselves into their new environment and become well-established.
Crop Rotation
Gardeners and farmers must make sure the herbicide is safe for pumpkin use before applying. Contact your local law enforcement officials about whether there are any laws that might prevent applying the pre-emergence herbicide within your district.
Types
According to the University of Illinois Department of Natural Resources and Environmental Sciences, herbicides available as of 2010 that are registered for use on pumpkins in the United States are solely pre-emergent. Pre-emergent herbicides are chemicals that affect the germination of weed seeds and not plants that have already emerged from the surface.
Warnings
All labels of purchased herbicides should be carefully read and the manufacturer instructions strictly followed. Some types of herbicides are sensitive to mixing with other chemicals, such as pesticides. Be sure to contact the manufacturer directly regarding any questions about safety that you may have.