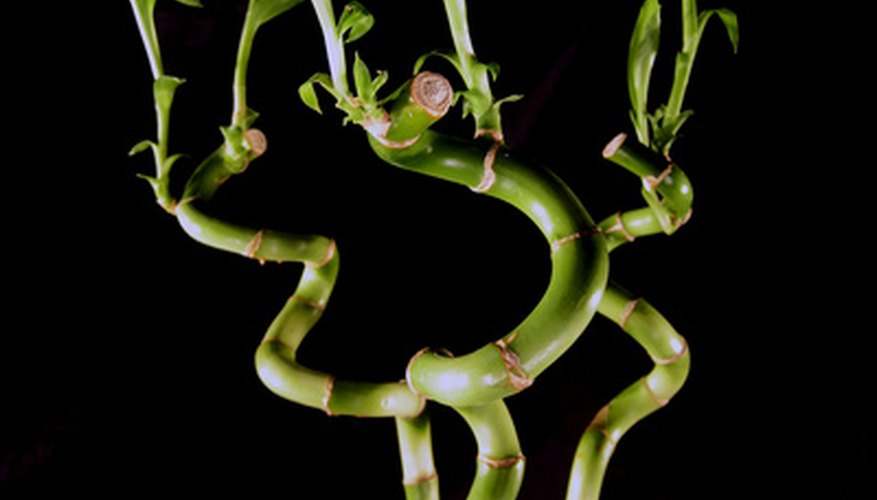 Braided bamboo is created using a form of water lily commonly called lucky bamboo. The plant is a form of Dracaena. A hardy water lily, lucky bamboo doesn't necessarily have to grow in water. It can grow in soil without standing water, as long as the soil doesn't dry out.
Function
Lucky bamboo is a decorative plant that has strong cultural and numeric significance in Asian cultures. Because it so strongly resembles bamboo, it often helps with feng shui interior decor and design. However, even without the cultural, numerological and feng shui significance, braided bamboo is an attractive, low-maintenance accent plant that adds color and texture to a room.
Cultivation
Braided bamboo can grow in a container with soil or stones in the bottom with the remainder filled with water or in soil that is kept constantly wet. If growing lucky bamboo in water, change the water every couple of weeks and add a drop of liquid fertilizer every few weeks to help increase leaf size. Plants grown in this way can last for years, according to the University of Illinois.
Size
Unlike true bamboo, which has a woody stem and can grow to over 100 feet, braided bamboo stems don't have the stem strength to grow beyond 2 or 3 feet tall. Store-ought lucky bamboo usually has its growth node removed and, although the leaves may grow larger, generally will not grow taller.
Light
Braided bamboo are tolerant of most light levels. Direct outdoor sun, however, may not be ideal for the plant. Partial sun or shade is better. Lucky bamboo is very tolerant of low light and can grow for years in dim corners or hallways. However, periodically moving the plant to partial sun may help improve plant health and longevity.
Considerations
Braided bamboo is a tropical plant native to Southeast Asia and tropical West Africa and will not tolerate temperatures below freezing. If you are growing a pot of lucky bamboo outdoors, bring it inside before first frost. As a tropical plant, as long as it has adequate fresh water, heat should not harm lucky bamboo.