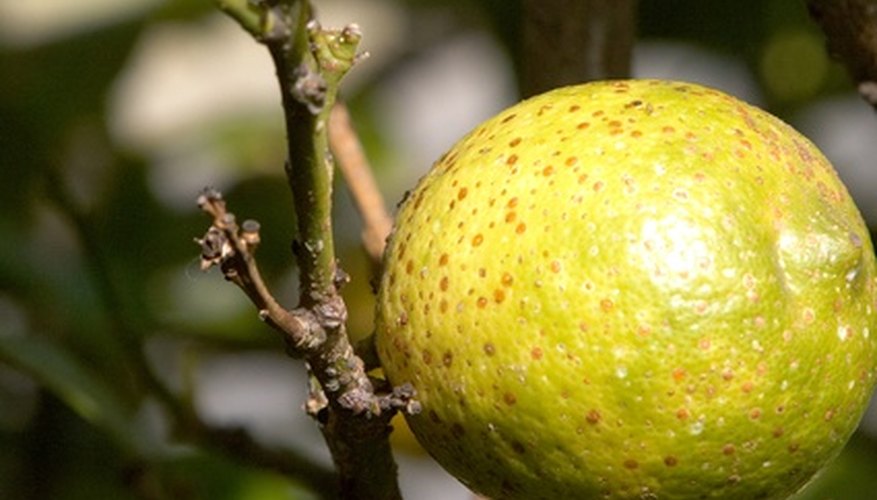 Sulfur spray is one of the oldest known pesticides and is used most often by organic gardeners on fruit-bearing trees to avoid the environmental and health hazards of chemical-based pesticides. Although safer for the environment at large, sulfur spray is still highly dangerous to humans, and safety precautions should be taken.
Hazards
Sulfur spray will help kill off many dangerous fungus from fruit trees, such as apple scab and powdery mildew. It is added to an adhesive which will stick to the surface of many fruits and keep fungi from reproducing on the plant. Unfortunately, the spray is irritating to the skin, eyes, nose and ears. Avoid contact with the spray under all circumstances.
Gear
To protect your eyes, wear regulation safety goggles which can be purchased at most hardware stores. To protect the skin, wear gloves, coveralls, long sleeves and pants whenever the spray is used. A hat and face mask are also advisable to protect the nose and ears and prevent inhalation.
Solutions
Follow manufacturer instructions when applying sulfur spray to a crop. If you are exposed to this spray accidentally, take action immediately. Contact your doctor or poison control center immediately and follow their instructions. If swallowed, drink water. If it makes contact with the eyes or skin, rinse for at least 15 to 20 minutes, immediately removing contact lenses if necessary.
Follow Up
Wash all contaminated clothes after each contact with the spray. Wash your hands and exposed skin as well after removing clothes, putting away supplies and rinsing off equipment.
Fruit Safety
Never spray sulfur on fruit in temperatures that are higher than 80 degrees F. Applying the spray on fruit in hot weather can cook the chemicals into the fruit and damage it. Always wash fruit that has been sprayed with sulfur before consuming or selling it.