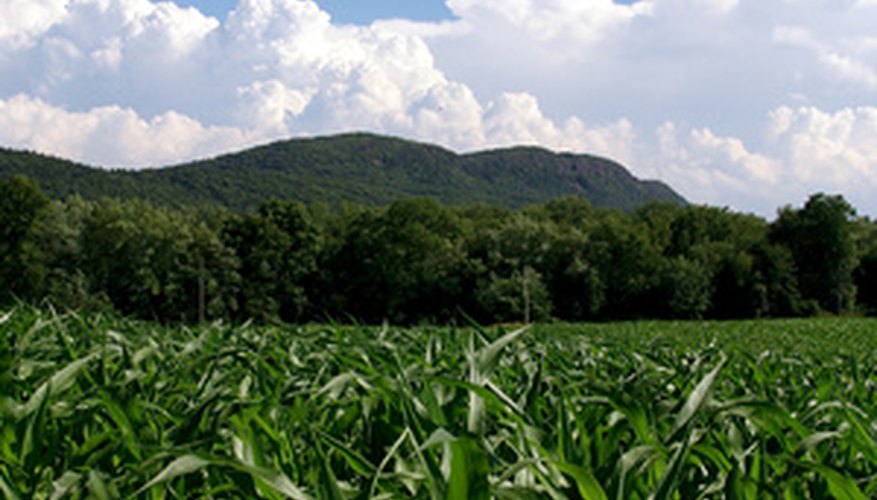 Historically, corn was planted in rows to help eliminate weeds. Rows had to accommodate horses; rows later had to accommodate the width of tractors wheels. Today, the widespread use of chemical herbicides to control weeds has decreased the amount of cultivation that is needed, in some cases eliminating it altogether. General recommendations for herbicides are difficult because the weather, varieties of corn and specific weeds vary from region to region.
Weed Identification
The nature of anticipated weeds must be known if herbicides are applied to the soil before corn is planted or corn plants emerge. Growers should know what weeds are present in the fall and what areas of the field in which they grow. Knowing what weeds need to be killed is the best guide to buying effective herbicides.
Cultivation Control
Corn fields should be tilled with clean equipment to keep weeds from spreading from one field to another. Ditches, fence lines and waste areas need to be kept free of weeds. Cultivation cuts weeds or buries them before they have a chance to grow and compete with the corn.
Pre-Emergent Herbicides
Tilling the soil to remove large clods can help corn germinate and improve the performance of herbicides applied before planting. The soil should be irrigated and manures applied to the soil with discs before the herbicide is applied. Agronomists at the University of California, Davis, recommend the application by disc of pre-emergent herbicides with the active ingredients alachlor, metolachlor or EPTC (ethyl dipropylthiocarbamate). Alachor or metolachlor should be applied 2 to 3 inches deep; EPTC should be applied 4 to 6 inches deep. Corn should be planted immediately after the herbicide is applied.
Post-Emergent Herbicides
Cultivation can reduce between rows of corn, but herbicides may be needed to eliminate weeds between plants. University of California agronomists recommend post-emergent herbicides containing the active ingredients 2,4-Dichlorophenoxyacetic acid, bromoxynil, carfentrazone, dicamba, dicamba with halsulfuron, diflufenzopyr, halosulfuron, foramsulfuronm metribuzin or nicosulfuron. Special care should be made to follow the instructions on the labels of these herbicides to avoid damaging the corn.
Regional Herbicide Recommendations
Corn growers in the Midwest are plagued with different weeds and growing seasons than those that afflict corn crops in the Southeast or Southwest. For a detailed list of EPA-approved herbicides together with application rates, growers in the Midwest should check Purdue University's website for information on corn herbicides (see Resources). Growers in the South should check the University of Florida's website for information on weed control in sweet corn (see Resources). Growers in the Southwest should check Texas A&M University's website for suggestions in weed control for corn (see Resources).