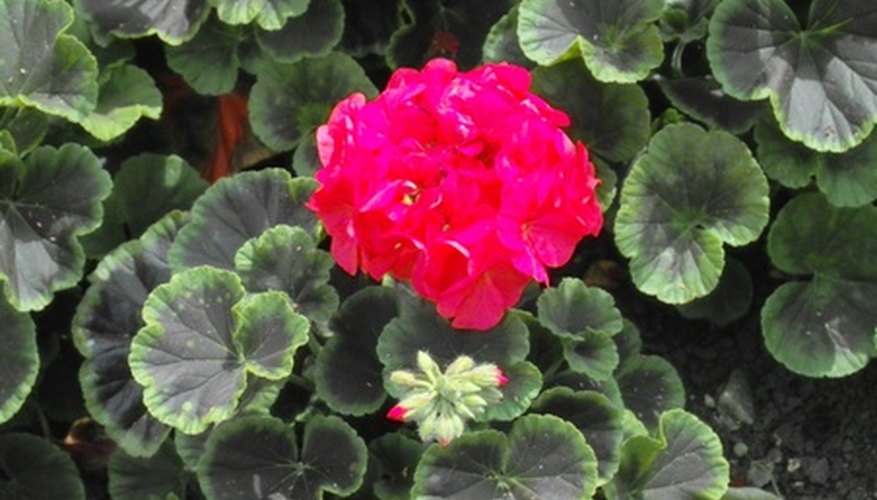 Ivy geraniums, with their ivy-like leaves and trailing stems of pastel blooms, have long been hanging basket and window box classics. Zonal geraniums, with clusters of bright flowers and variegated, green foliage, are popular for beds and containers. With Calliope and Caliente geraniums, Syngenta Flowers of the United States and the Netherlands has combined some the best features of both into two distinct, award-winning ivy-zonal geranium hybrids.
History
Syngenta introduced four colors of Caliente geraniums in 2005. They followed up in 2008 with Calliope Dark Red. Calliope quickly set sales records. Greenhouse Growers.com awarded both plants its 2009 Medal of Excellence.
Calliope Appearance
At 10- to-12 inches high and 18-to-20 inches wide, Calliope Dark Red has a semi-trailing habit, green foliage and flowers the color of rich, red velvet. Syngenta introduced its second Calliope cultivar, Scarlet Fire, in 2010.
Caliente Appearance
Caliente's leaves reflect its ivy-zonal geranium parentage with their deep green color and lobed, ivy shape. Bushy and densely branched, Caliente forms a 12-to-14-inch high and wide mound. Its deep green leaves make a splendid backdrop for abundant, single flowers that are at their best in hot weather. Coral, rose, red and deep red are original Caliente colors. Fire appeared in 2009, with lavender, bright coral, pink and orange arriving in 2010.
Calliope Uses
Calliope's rapidly spreading, semi-trailing form makes it a stellar performer in baskets, window boxes and patio pots. It also makes a fine bedding plant with enough room. Its brilliant red or scarlet can overwhelm surrounding blooms. Syngenta recommends combining it with plants with flowers of strong blue or yellow.
Caliente Uses
A less vigorous grower than Calliope, Caliente is a good fit for small and large containers and an eye-catching garden addition. A wide color range means there is a Caliente cultivar to pair or contrast with plants with bright, pastel, hot or cool shades. Syngenta advises including only fully grown plants in container combinations.
Calliope Growing Conditions
Calliope grows in American Horticultural Society Zones 3 to 11, where daytime temperatures exceed 86 degrees on as few as seven or as many as 210 days each year. It's right at home in Southern gardens, where traditional ivy and zonal geraniums sometimes struggle. Handling both full sun and partial shade, Calliope likes acidic soil with a pH between 6.0 and 6.4, advises Syngenta. Mid-5 soil pH leaves it vulnerable to manganese and iron toxicity.
Caliente Growing Conditions
Like Calliopes, Caliente geraniums are happy in gardens from AHS Zones 3 to 11. They prefer full sun and a soil pH range between 5.2 and 6.2 and aren't subject to iron or manganese toxicity. Caliente lavender and deep red sometimes develop yellowed leaf tips in extremely hot conditions where soils fall in the mid-to-high 6 range.