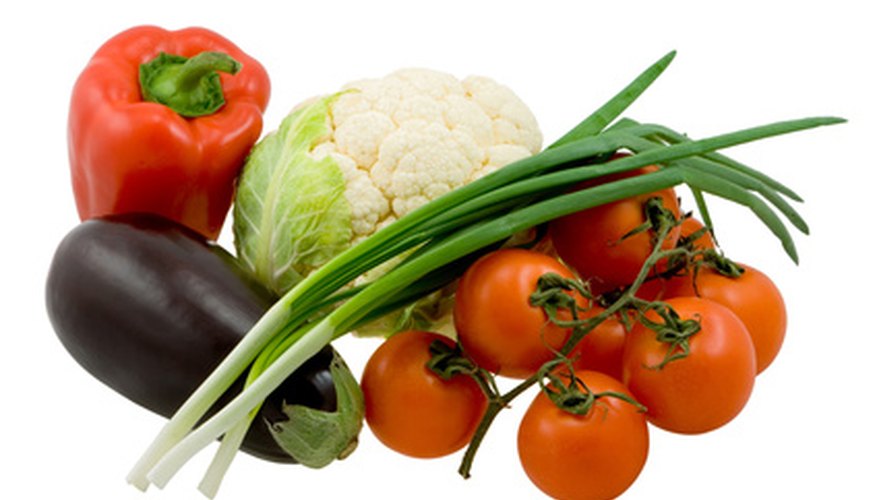 Growing vegetables in beds raised above ground level is useful in areas where heavy or poorly drained soil makes gardening difficult or impossible. Raised growing beds are practical for older gardeners who find it difficult to bend over to care for their vegetables. Soil may be enclosed in timbers, railroad ties, bricks or other materials, but constructing a raised bed with cinder blocks made of cement and ash is not difficult and the bed will last.
Soil
Raised beds allows gardeners to grow vegetables above soil that is compacted or water-logged. Wet soil deprives vegetable roots of oxygen and makes them more susceptible to fungal diseases. Raised beds lift vegetable roots above soggy soil, allowing them spread, giving higher yields of vegetables. Raised beds are ordinarily filled with good-quality topsoil mixed with sand, peat moss, compost and decomposed manures. Since raised beds drain better, the soil warms more quickly in the spring allowing earlier planting.
Easy Maintenance
Intensive planting techniques allow more plants to be grown in a small area and provides more foliage that provide shade, blocking the growth of weeds. Watering, weeding and other gardening chores are easier in a raised bed because gardeners don't have to stoop or bend. Soils dry out faster in wet season, allowing gardeners to plant when it isn't raining.
Recommended Cement Material
The least expensive and most practical way of building an enduring raised planter is by using cement cinder blocks. Cinder blocks, made of cement and ash, are lightweight and will do the job of holding the soil in a raised garden bed. Heavy, high-density concrete blocks made of cement and sand or fine gravel are unnecessary. Cinder blocks are called "besser" blocks in Australia and "breeze" blocks in the UK.
Cinder Block Construction
A concrete footer or base for the blocks should be 16 to 18 inches wide and 6 to 12 inches deep and contain 3/8-inch reinforcing rod in the center. The cinder blocks are laid on the footer after it has been allowed to dry for three or four days. There should be at least 1/2-inch of mortar between the bottom blocks and the footer and between the blocks. The top of a bed should be at least 8 inches above the ground and ideally 12 to 18 inches.
Location and Shape
A raised vegetable bed can be built on solid rock or concrete slab or on the top of a roof. Raised beds can also be built as terraces on steep hillsides. Most raised beds are rectangular, although they can be any shape; they should ideally blend in with their surroundings.