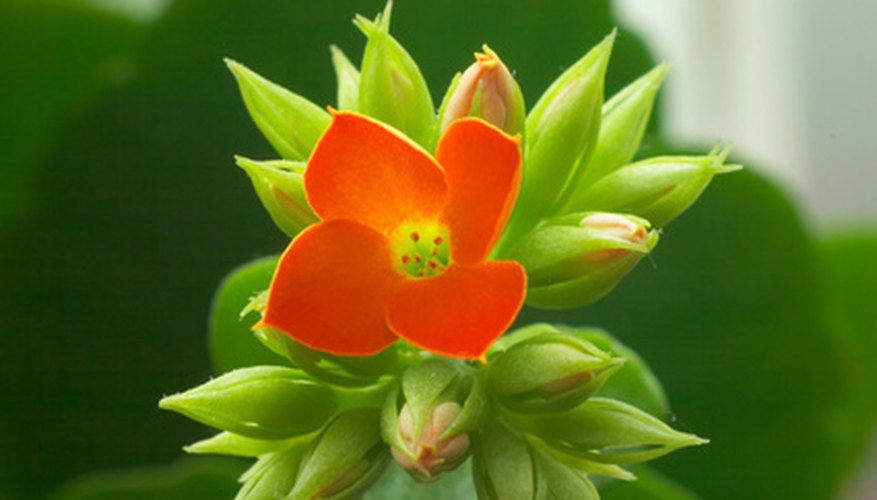 Hailing from Madagascar, Kalanchoe blossfeldiana is a succulent plant that is a member of the Crassulaceae family, related to common plants like jade trees, sedum and sempervivum.The species can grow up to 1 foot tall in its native habitat. Breeders have developed hundreds of varieties of Kalanchoe blossfeldiana and "Entretien" may be one of them. "Entretien" is a French word meaning "maintenance or upkeep." It often appears in French language pieces on Kalanchoe blossfeldiana (and other plants) in connection with instructions on the culture of the plant.
Appearance and Bloom Time
Kalanchoe blossfeldiana's leaves are dark green, fleshy and glossy with lobed edges. The four-petaled flowers are held in clusters above the foliage and come in shades of red, pink, orange and yellow. Double-flowered varieties are also available. Kalanchoes are generally grown in greenhouses and can be forced into bloom any time, but the blossfeldiana varieties generally begin blooming in December, making them appropriate for the holiday plant market and giving rise to the common name, "the Christmas kalanchoe".
History
The genus Kalanchoe was first described by eighteenth century botanish Michel Adanson. Kalanchoe blossfeldiana was first described in the early twentieth century by botanist Karl von Poellnitz. The species name, "blossfeldiana" , honors Robert Blossfeld, a German hybridizer who introduced the new species in 1932. In the late 1970's to 1980, European breeders succeeded in creating varieties that combine compact size; long-lasting, bright flowers and an upright habit.
Kalanchoes in Commerce
Early commercial kalanchoe varieties were grown from seed, which was problematic because seed grown varieties took a relatively long time--9 to 10 months--to reach blooming size and the resulting plants were not uniform. Now kalanchoes are reproduced asexually, from cuttings, producing quicker, more predictable results. According to Dr. Raymond Kessler of Auburn University, one of the largest American propagators of Kalanchoe blossfeldiana is Mikkelson, Inc. of Ashtabula, Ohio.
Growth of the Industry
According to leading Dutch grower and breeder, Ike Vlielander, Kalanchoe popularity has mushroomed in the last thirty years. In 1977, approximately 1 million seed-grown kalanchoes were sold per year at the Flora Holland auction, the main venue for world sales by Dutch plant growers. In 2009, 100 million kalanchoe plants were sold at Flora Holland.
Culture
Kalanchoe plants should be watered when the top of the soil is dry. Indoors they thrive when placed in a south-facing window or provided with artificial light. After flowers have faded, the plants should be cut back to encourage new growth and fertilized bi-weekly. Kalanchoes will continue to grow through spring and summer. To initiate the bloom cycle, provide plants with 14 hours of continuous darkness every day and withhold fertilizer from September through the end of December. Sometime during the end of the September-December period, the plants should set flower buds. Once you can see the flower buds above the leaves, discontinue light deprivation.