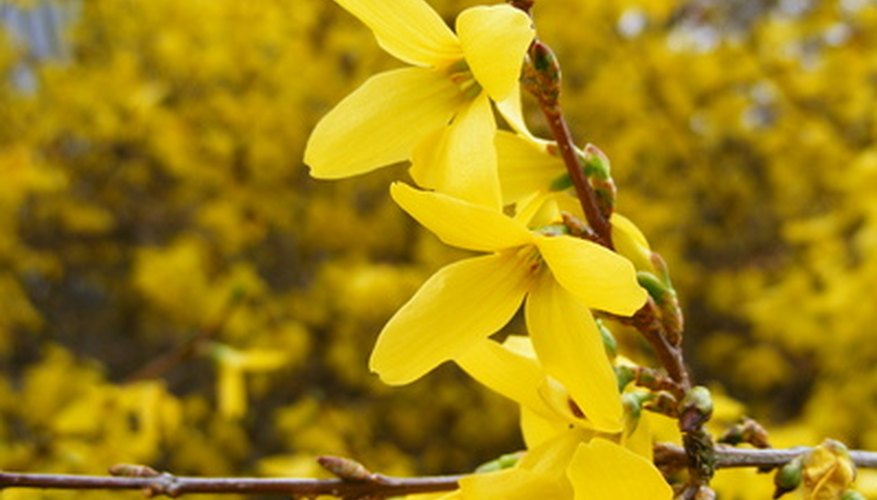 Forsythia Flowers image by Courtenay Smith from Fotolia.com
The fungus Phomopsis spp. causes growths, known as galls, to develop on the forsythia shrub. The spherical clusters appear uneven and encompass the entire stem. The galls can measure over 1 inch in diameter or be as small as a garden pea, according to the University of Illinois. They form in clusters or as a single growth on the forsythia's stem.
Reproduction and Spread
The Phomopsis fungus grows within the cankers of the forsythia. During the cold winter months it does not hibernate in the soil as so many fungal infections do. It remains active within the galls of the shrub. When wet weather occurs from irrigation or excessive rain the fungus produces spores that are spread from shrub to shrub by insect activity, splashing water or during pruning when the pruning shears are not properly sterilized.
Admittance
The active and highly virulent spores of the fungus must gain admittance into the forsythia shrub's bark through a wound. The shrub can sustain wounds during pruning, over cultivation or other bark abrasions. Care should always be taken to sterilize pruning instruments with a solution of water and bleach prior to pruning the forsythia to avoid the fungus from infecting the shrub
Control
There is no cure for forsythia galls caused from the Phomopsis spp. fungus. All infected stems must be promptly pruned away and disposed of. Sanitize the pruners between each stem to keep from spreading the fungus further. Promptly bag the galls up so they do not have time to release spores into the air to infect other shrubs. Avoid pruning away the infected areas during wet weather when the spore release is the most prevalent.
Prevention
Avoid planting a forsythia shrub in any locations where galls are prevalent. If the area had a shrub that suffered from galls but was removed, do not plant a new shrub in its place or it could easily become infected with the fungus.
Outlook
Increase the health of the forsythia shrub that suffers from galls by regular watering and fertilizing. On a young, weak shrub the galls can become so prevalent that they girth the stem and kill it. The galls often last several years and then begin to wither, shrink and turn black as the shrub regains its health. The galls often completely disappear on a healthy shrub without any care.