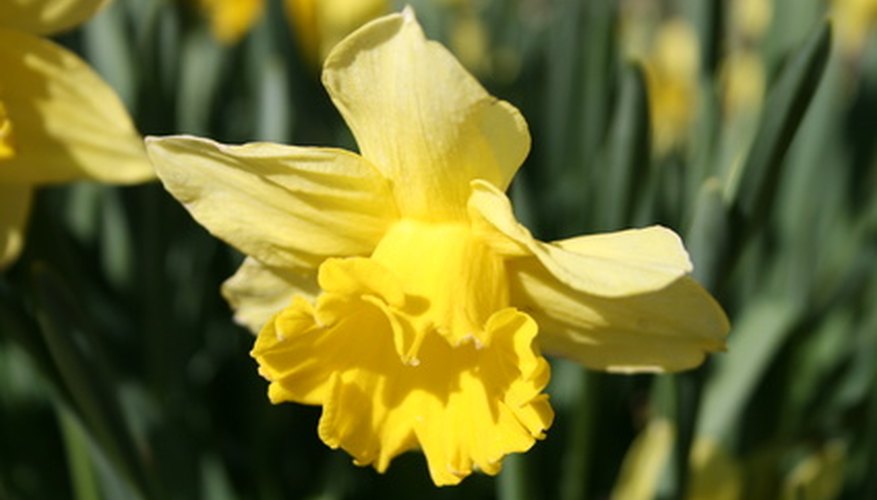 Herb and flower gardens provide both color and functionality in most home gardens, with growth, blooming and harvests through spring and into summer. The best time to plant some of these plants is fall when the soil is warm from a full sunny season and ready to encourage new plants to take roots.
North Carolina Growing
North Carolina falls into U.D. Agriculture Hardiness Zones 7 and 8, which means that although summertime temperatures are hot and humid, winter temperatures may drop to freezing, especially in the northern area of the state. Gardeners must take care of fall planting early, and then care for the sites through winter.
Timing
All fall planting should occur before the first frost, which takes place in September in most of North Carolina. According to master gardener Paul James, fall planting should take place at least six weeks before the first frost. This means working the ground while it's still very warm. This gives plants time to establish before the harsh winter temperatures arrive.
Fall Flower Planting
Many flowers require fall plantings for spring and summer blooms. Choose spots that get full sun throughout the year for daffodil, iris, tulip and lily bulb planting, as these flowers require full sun for eight to 10 hours a day. Amend the soil to a depth of 8 to 10 inches with compost and quick-draining soil to give the flowers the drainage and support they need and plant the bulbs 4 to 6 inches deep. Don't water the bulbs during the winter, as they need time to grow and take root and prefer to do this in relatively dry conditions.
Fall Herb Planting
Herbs may be annuals, perennials, biennials, bulbs or grasses, but they generally require the same set of growing conditions. Because herbs are generally not hardy to cold winter conditions, start oregano, thyme, lavender and basil in indoor growing trays in the fall, using quick-draining soil and moss. Put the trays on the patio, in sunny areas, but bring them in before the first frost. The herbs will take root and begin to grow over the winter, and will be ready for a transplant into the garden in the spring. This transplant will bring you a fresh herb harvest in May and June.
Winter Protection
Most plants and bulbs will require winter protection in the cold of a North Carolina winter, especially if they're brand new. Mulch newly planted sites with 4 to 5 inches or more of organic mulch to keep the site from freezing, and consider putting garden blankets over the sites for additional protection. Don't water new bulbs or plants over winter in North Carolina, as the natural precipitation in this area will take care of all moisture needs.