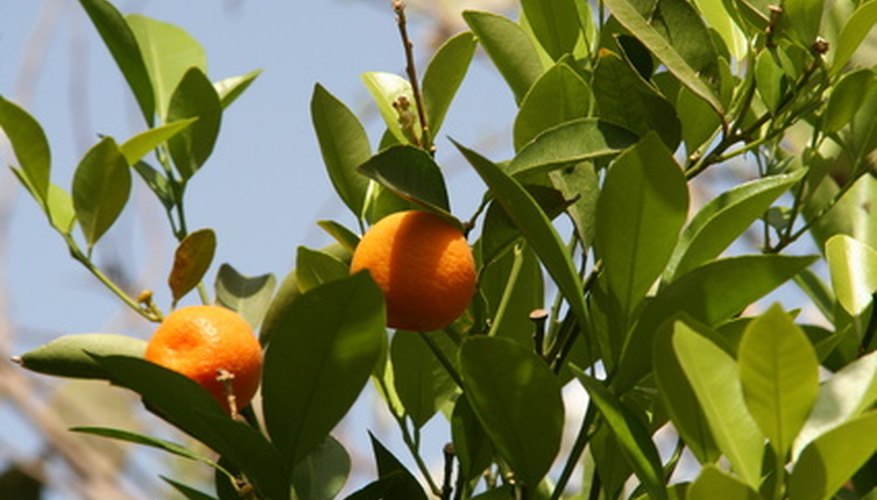 Although the application of fertilizer is an important step in providing much-needed nutrients to commonly grown plants, many products are not specifically designed for fruit trees. This exception makes it difficult for gardeners to produce healthy, fully grown fruit when applying such products to their plants. Organic citrus fertilizer is designed to prevent nutrition deficiency in heavy-feeding fruit trees.
Organic Citrus Fertilizer
Citrus trees, such as orange and lemon trees, are regarded as heavy feeders, needing high amounts of common nutrients to flourish properly. These trees often need soil that is more sandy, meaning less able to store nutrients and water, and the trees' dark leaves and large fruit production will absorb the majority of nutrients quickly. Organic citrus fertilizer is made to help maintain levels of nutrients in the soil and keep the tree producing healthy, fully grown fruits for longer periods of time.
Nutrients
Citrus trees are known to suffer from nutrient deficiencies when not properly fertilized because of their heavy feeding. Major nutrients nitrogen, phosphorus, potassium and magnesium along with an assortment of minor nutrients are needed to keep trees producing healthy full fruit. Deficiencies are detected by symptoms such as small, pale leaves and misshapen, acidic fruit. Using organic citrus fertilizer can help achieve and maintain a balance of nutrients in the soil.
Homemade Fertilizer
Many citrus fruit tree gardeners make their own organic fertilizer directly from the remains of the citrus trees that they grow. Measured by volume instead of weight, gardeners can add four parts cottonseed meal, one part dolomite limestone, and one part kelp meal to create balanced fertilizer full of macronutrients. By adding a mixture of equal parts composted manure debris from decomposing leaves and stems of older orange trees and grass clippings, gardeners can provide additional nutrients to meet the special needs of citrus trees. Keep mulch away from the fertilizer as it encourages mold growth, which can damage the roots. Citrus trees also need good drainage to keep their roots dry.
Purchase
Locating organic fertilizer specific for citrus trees can be somewhat challenging. There are relatively few organic fertilizers designed for the special needs of citrus plants. When citrus fertilizers cannot be located, organic palm fertilizers are an occasional substitute because of the similar nutritional needs of palms and citrus trees.
Use
Fertilize younger trees every six weeks after they have had about two weeks to become rooted following planting. Citrus trees that are 1 to 3 years old need 1/4 to 3/4 lb. of fertilizer per tree spread throughout the season. Trees that are 4 to 6 years old need from 1 to 2 1/2 lbs. of fertilizer per tree.
Fully grown trees that are more than 6 years old need more fertilizer applied but less often. Adult trees are fertilized three to four times a year evenly from February until August. They require from 1 1/2 to 3 lbs. of fertilizer per tree.