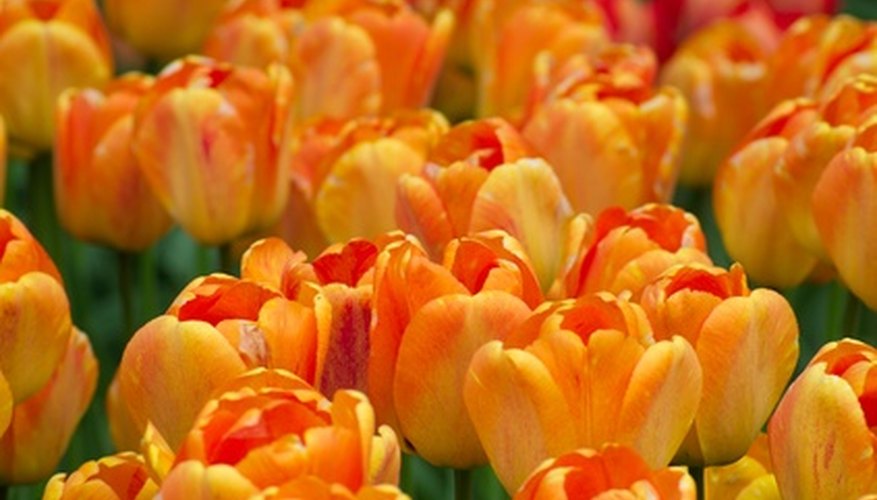 peach and orange tulips image by Jorge Moro from Fotolia.com
Spring bulbs support spring flowers such as tulips, daffodils and lilies. The bulbs have specific planting and growing needs, but last for years, to bloom again and again in the spring. Many spring flowers are short-lived, however, and die back in summer after their blooming time. Gardeners make up for this empty space in a variety of ways.
Overplanting
Overplanting spring bulbs occurs when gardeners plant other plants on top of the spring bulbs after they've finished blooming and lost their foliage for the year. Gardeners cut off the dead foliage and plant small flowering plants over bulbs to fill the space until the bulbs bloom again.
Annuals and Perennials
Annuals and perennials are plants that grow and bloom only once or twice in their lifetimes. These are popular plants for overplanting spring bulbs because they grow and bloom through summer and then die off before the bulbs bloom again.
Spring Bulbs
Common spring bulbs include daffodils, tulips, lilies, calla lilies, irises, dahlias, gladiolus, begonias and montbretia. Bulbs require quick-draining soil and compost during planting, and good moisture during their growth, but do best if left completely alone during their summer and fall dormancy.
Problems
According to British gardening writer Anna Pavord, spring bulbs fail because of the care given to the plants on top of them in overplanting. Bulbs need dry, cool conditions to survive, and so rot and die with the water and fertilizer given to plants growing over them.
Solution
Gardens Alive recommends an alternative for overplanting spring bulbs. Once the bulbs finish their bloom and lose their foliage, the site recommends digging them up and storing them in loose, dry soil and wooden containers, with no watering or humidity, to replant them again in fall or spring. This reduces the chances of the bulbs rotting, and offers better success for reblooming in the spring.