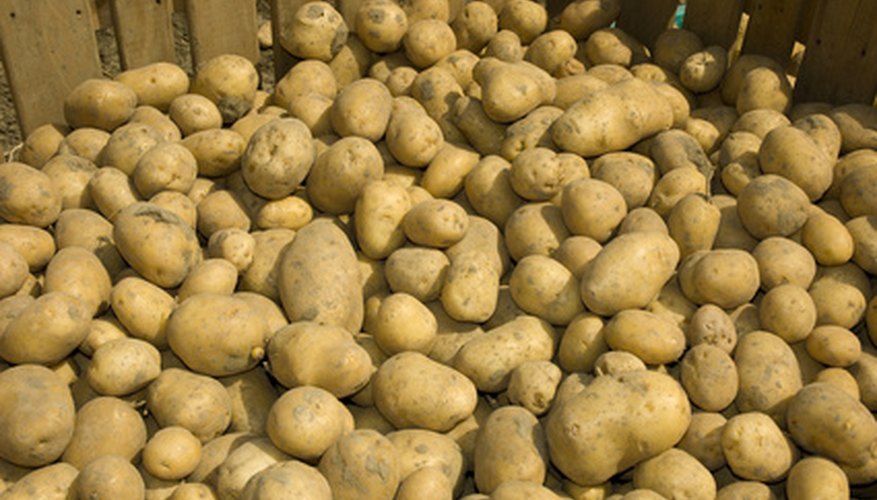 Vegetables such as potatoes, garlic, and onions can be stored in a wooden vegetable bin. While vegetable bins can be bought at a local home improvement center, grocery store, or garden center, it may be more affordable to build your own wooden vegetable bin. With your supplies measured and precut, you can have a bin finished and ready to use in about an hour.
Stand 1 x 10 x 20-inch boards upright so that they are vertically running parallel to each another. Adjust the boards so they are set 10 inches apart.
Set the 1 x 12 x 20-inch board upright and position it so the ends of the 10-inch boards are butting up against the surface of the 12-inch board. Screw through the 12-inch board and into the ends of the 10-inch boards every five inches to secure the three boards together.
Place the peg board along the back of the bin and align it with the 10-inch side boards the same way as you did with the 12-inch board. Screw the peg board to the side boards every five inches. Set the bin unit aside.
Space the 3-inch blocks on the floor or a flat surface to make up the corners of a 1-foot square. Adjust the blocks so each one is six inches away from the adjacent corner blocks.
Place the 1-foot square board on top of the corner blocks and make the corners flush to the board. Screw two screws through each corner of the board and into the block below to secure the legs of the bin to the base.
Turn the base upside down and set it over the bin unit created in Step Three. Align the edges to make the base and sides of the bin flush. Screw through the base and into the bin with two screws on each side of the base. Turn the bin right side up so that the opening is facing up and the bin is resting on the legs.
Center the cabinet handle on the remaining 1-foot square board. Attach the handle to the board using the screws provided with the handle to form a lid for the bin. Place the lid over the opening of the bin. Set the completed bin to rest at least an inch away from a wall with the peg board running along the back.
Things You Will Need
2 boards, 1 inch x 10 inches, 20 inches long

1 board, 1 inch x 12 inches, 20 inches long

1 sheet of peg board, 1 inch x 12 inches, 20 inches long

2-inch screws

Drill

4 blocks, 3 inches x 3 inches, 3 inches tall

2 boards 1-inch thick, 1-foot square

Cabinet handle with screws
Tip
Paint or stain the vegetable bin, if desired, only along the outside surfaces of the bin.