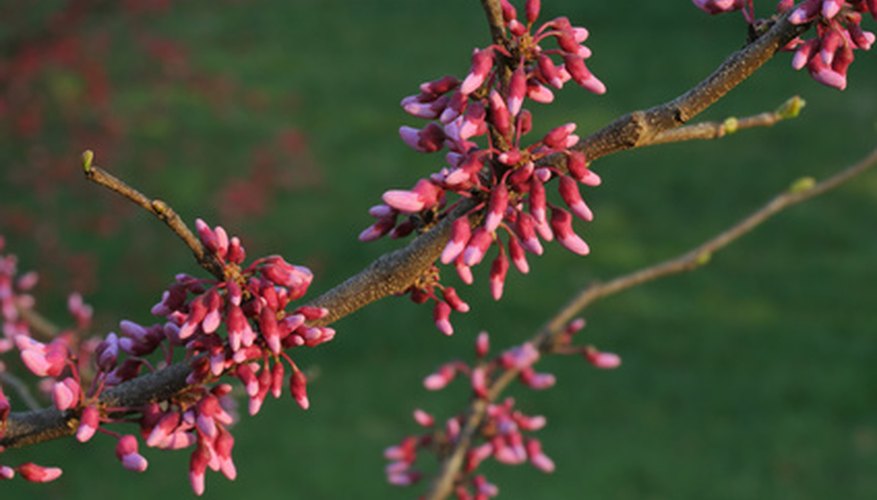 Some trees, like redwoods, can grow to hundreds of feet, and typical shade trees like elms and oaks can reach 70 feet, but these are too overpowering for most homeowners' needs. Small trees 30 feet or less in height are better suited to the residential landscape. Selecting small flowering trees or ornamental trees can be a challenge, because they come in a wide variety of colors and types. Narrowing down the search is a matter of taste, budget and location.
Types
Some small flowering trees, such as the rose tree and orchid tree, are named for the flowers they bear. Others are named for fruits even though they do not actually bear fruit. Examples include the Kwanzan or Yoshino cherry, weeping cherry, Cleveland pear and some varieties of crab apples. Redbuds, dogwoods, smoke trees and others provide a variety of effects, from delicate to wide-reaching shade trees.
Zones
Hardiness zones split the country into regions that are defined by their coldest average temperature. Not all ornamental trees are capable of surviving in all hardiness zones. When selecting ornamental trees for your landscaping project or yard, check the hardiness zone before purchasing. Some trees will not tolerate temperatures outside their recommended zone. Others may be more tolerant. Your local nursery or extension office can give recommendations.
Uses
Flowering trees are prized primarily for the spring or fall blooms they provide. A large burst of color from such a tree can be the focal point of your front yard or other part of the landscape. Some have wide-reaching canopies and can provide shade for that special spot. They will attract bees and butterflies, both necessary for pollinating flowers of all sorts of plants. Some gardeners will plant a flowering tree near a flower or vegetable garden to help ensure pollinators come calling.
Considerations
Ornamental trees are often subject to a greater number of disease and pest problems than other trees. Some have short life spans and may need replacing in 20 years. Early blooming trees can suffer when a late frost comes along and kills the flowers for that year. Because of their smaller size, some have more delicate branches that can be more apt to break during storms and high winds or from snow and ice-bearing loads.
Care
Ornamental trees need the same basic care as any other type of tree. Providing regular watering along with annual pruning and a yearly dose of the appropriate fertilizer should keep your flowering tree in good shape. It is wise to monitor for signs of disease and insect problems throughout the year.