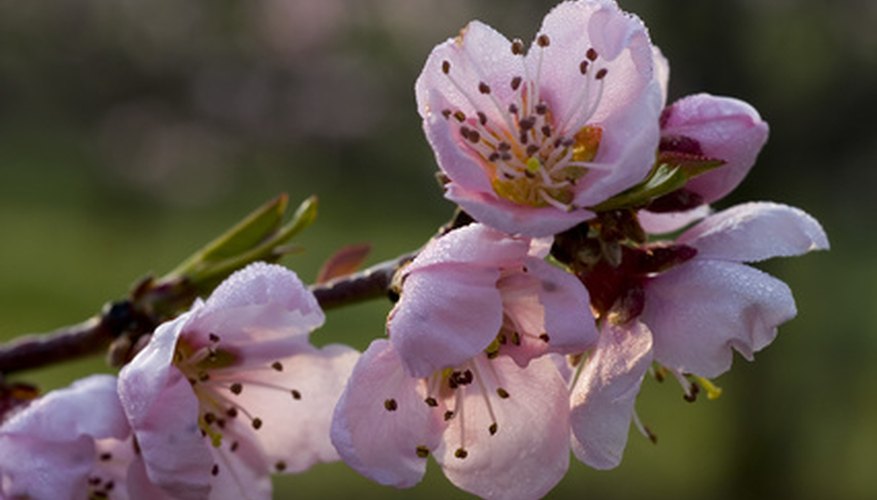 Owning a peach tree will produce more return than most other plants. Growing your own peaches is much less expensive compared to buying them. Picking the right peach tree is easy once you know what to look for. Healthy trees that will grow into strong, well-producing plants will have a strong, firm, even look. Unhealthy ones may have sap on branches or a goo-like substance on the bottom of the trunk.
Inspection
Pick peach trees that have a thick, strong, straight-growing trunk.
Look for well-balanced branches that extend evenly around the tree.
Don't pick a peach tree that has large branches near the bottom of the trunk.
Lift the roots to see if they have been properly protected. Avoid any potted trees that might have the roots exposed either on top or coming out of any drainage holes on the bottom. If the tree has the roots wrapped up into a root ball, make sure that it is wrapped tightly.
Ask the approximate age of the tree and if it has been grafted. Naturally-grown peach trees will not bear fruit until 3 to 5 years old, while grafted trees will produce fruit at an earlier age.
Look for any type of disease that the tree might have. Sap coming out of the branches and trunk can be an indicator of bacterial canker. If the trees are not dormant, look for healthy branches and leaves with no discoloration or insect bites.
Look for any type of rot on the fruit. The fruit on the trees should be firm, with a healthy flesh look on the mature peaches. Rotting fruit will have dark brown spots, with part of the fruits flesh falling off.