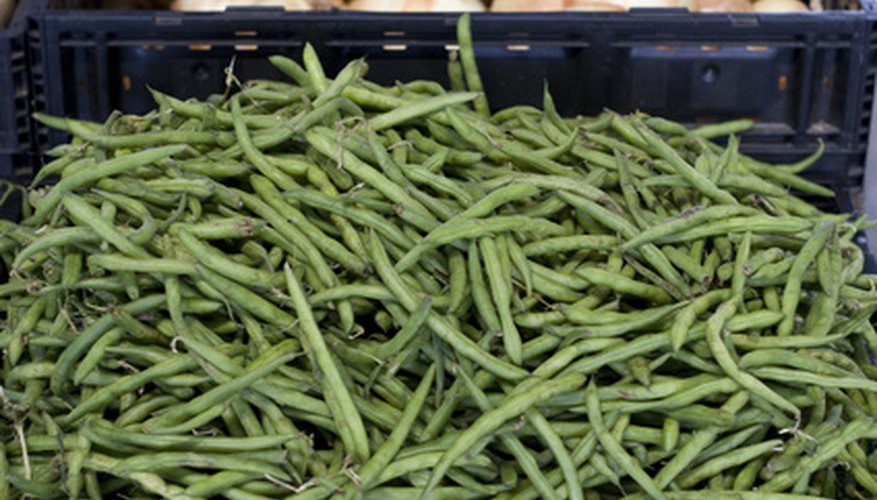 Ordinary green beans are most commonly grown, but hundreds of hybrid varieties are available to experiment with in your garden. The two main types of beans grown are pole beans and bush beans, and are differentiated by their growth patterns. Then, there are snap beans--beans eaten fresh or processed--or shell beans, dried beans used for chilis and soups. Beans come in a variety of hues--purple, yellow, spotted, striped and green.
Types
Bush beans have a compact bush form that requires no staking or training, while pole beans grow on sprawling vines. These beans need a strong support to thrive.
Considerations
Bush beans need no supports and are convenient to care for and harvest. Bush varieties produce beans within eight weeks of planting generally, but production dwindles in late summer. Pole beans take up more room in the garden and are a bit more work to grow than bush beans. They produce beans 10 weeks after planting, but continue to produce until frost. Some gardeners prefer their taste to bush beans, as well, according to Barbara Damrosch, landscape designer and author of "The Garden Primer."
Time Frame
Beans are planted in the spring, when temperatures are consistently above 65 degrees F. They thrive in well-drained, fertile soil and are planted at a depth of 1 inch and spaced 3 inches apart. Bean plants emerge within 7 to 14 days of germination and, given plenty of water and sun, take off quickly.
Warning
Hybrid beans are not frost tolerant and won't germinate well in soils below 65 degrees F. They should be planted when the soil is warm and all chance of frost is passed. A common misconception is that soaking bean seeds will speed germination. Actually, soaking bean seeds causes the skins to crack, according to University of Illinois Extension. They are better off planted dry and watered after planting.
Varieties
Popular hybrid varieties include 'Blue Lake,' 'Kentucky Blue' and 'Kentucky Wonder,' according to University of Illinois Extesion. These varieties are available in both pole and bush bean form. More adventurous gardeners can try 'Scarlet Runner' and 'Romano,' an Italian flat-podded variety.