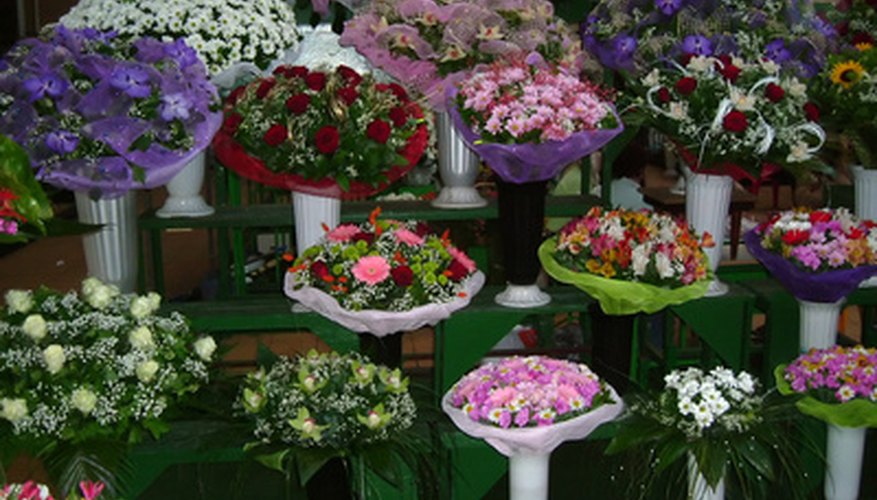 Flowers are a perishable product often bought on impulse from flower stores. Therefore, flower stores are often in high-traffic areas. Commercial flower stores not only sell flowers, but often sell small gifts and potted plants in attractive containers. A flower store usually employs floral designers who make attractive floral arrangement based on customer preference. A commercial flower store may also design and deliver floral arrangements for weddings and funerals
Draw a design for a display window to make it so customers can easily see what is available. Design the area for the window so there is room for at least one attractive arrangement or a few attractive bouquets and a few potted plants in decorative containers
Plan shelving in the shop to be in a stair-step fashion so it holds as many bouquets as possible, but doesn't make the customer reach in more than 2 feet to pick up a bouquet. The distance between the outside of the bottom shelf to the back of the top shelf should be no more than 3 feet. Customers reaching for items on the top shelf with heavy coats or bags will damage the flowers on the lower shelves if they have to reach too far in to pick up an item on the top shelf.
The shelves you design should be strong enough to hold several arrangements and containers of water. Wood shelving 2 inches thick is best for shelving and should have upright supports every 18 inches or so. Plastic and thinner wood begins to sag over time, so design with sturdy wood. You can cover the shelves with attractive fabric.
Place the shelving and aisles to create good customer flow throughout the shop without dead-ends. Dead-ends create confusion for customers, especially during crowded holiday periods.
Design the shelves so items you need to move quickly are at eye level. Design the display areas so all prices are clearly visible.
Plot out area where you can install a floral cooler for flower storage or arrangement display cooler in the back of the store or near the floral design station. Allow 6 feet by 6 feet for an average-sized walk-in cooler. For a display cooler for arrangements, allow 8 feet by 3 feet.
Design the main aisle to the register so it is wide enough to accommodate a long line as well as customers leaving the register and heading to the door. The main aisle should be at least 5 feet wide so customers can avoid each other and merchandise display shelves while carrying bulky flowers.
Plan an area behind the register with at least 6 feet by 6 feet of work space for each floral designer, to allow room for designing large funeral and wedding pieces.
Section off an area away from customer traffic where a designers can meet with wedding and funeral clients.