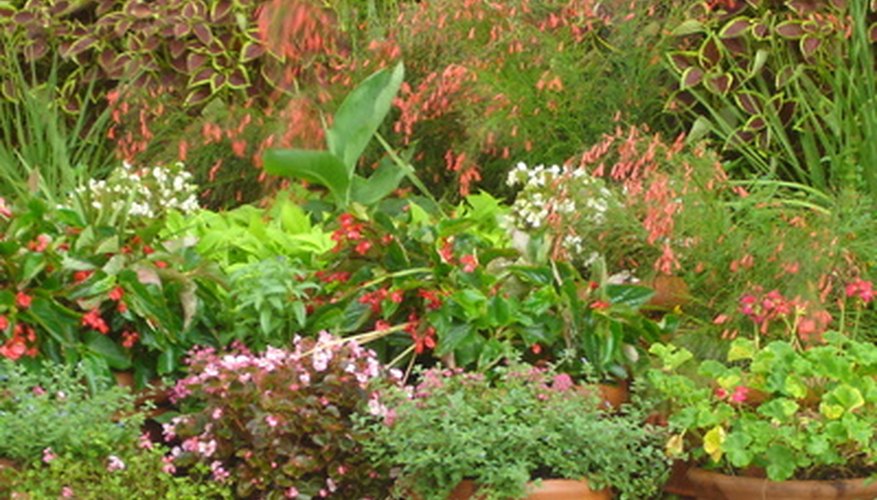 Enhance the beauty of your potted plant arrangements by creating living artwork with the use of plant supports. Some plant supports are small trellises and stakes that fit inside of the pots to support the plants, while others form towering arrangements with the actual plant pots. Create height and interesting accents to your planting arrangements with potted plant supports.
Support for Plants
Train your vine plants to grow up a potted plant support. Also called obelisks for their tower form, these plant supports are pieces of artwork that add height and style to the foliage of potted plants. As vines grow, they can become intertwined with the bars of these in-pot supports.
Simple stakes also make good potted plant supports. A single stake inserted into the soil and tied to the plant will hold the plant in position. Some stakes have a spiral form to provide more support for the stems and leaves of a growing plant.
Potted plant supports that support the trailing foliage of plants give these plants more growing room in tight spaces. They are also a nice way to make a unique arrangement with the plant's foliage.
Pot Supports
Some plant supports are designed to hold pots at varying heights to create topiaries of potted plants. The base of these potted plant supports may be stand-alone units that rest on a floor or table, or they may be inserted into a large pot. The pots are inserted into the rings of the plant supports that grab and hold the pots just below the rims. For dramatic interest, place a cascading plant on top and a plant with full foliage on the bottom.
Space Savers
Potted plant supports not only add height and interest to a planting arrangement, they are also space savers. In the same area of one pot, two to three more pots can form a tower of pots with these potted plant supports.
Styles
Potted plant supports are available in several decorative styles. Some form simple towers that come to a straight point at the top, while others are rounded at the top . Some supports have decorative leaves that mimic vines trellising its sides. An interesting potted plant support is the spiral obelisk style--it supports pots and trains vines along the spiral to the top.
Considerations
Use several potted plant support arrangements together to make a dramatic statement with your potted plants. These arrangements can be for indoor plantings or outdoor décor for the patio, deck or garden. When using them in pairs, select the same styles for uniformity, or mix styles to create an eccentric potted plant arrangement.