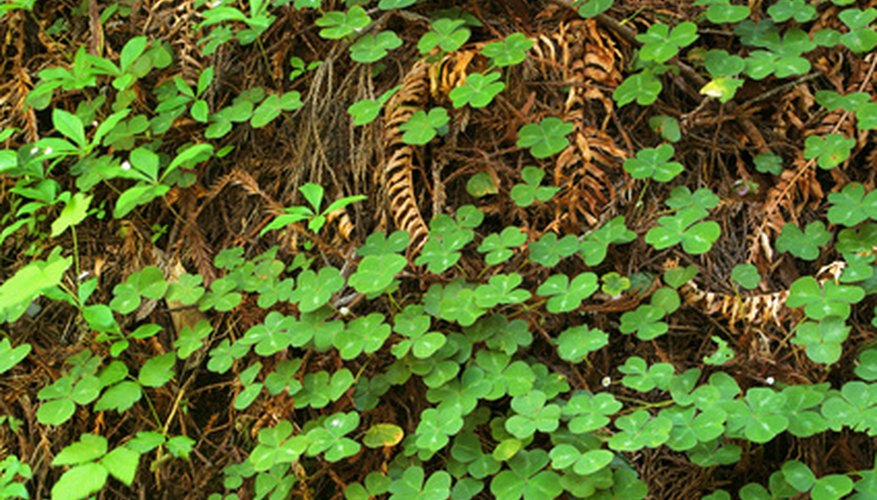 Weeds often spoil the beauty of lawns and gardens. Some of them are easy to get rid of, and some are harder. Oxalis, or yellow wood sorrel, can sometimes be one of the tougher weeds to control. If you have oxalis, get started on eradication as soon as you see it to prevent its further spread.
Description
Oxalis stricta, usually known as yellow wood sorrel, has bright green leaves resembling clover topped with yellow, five-petaled flowers about 1/2 inch across. It grows 6 to 15 inches tall, but is usually seen in the smaller range. Seeds are developed in long pods that explode, dispersing them far from the parent plant.
Lawns
Rarely seen in thick, healthy lawns, oxalis will grow in lawns with thin turf or bare spots. If occasional hand pulling is not enough to eradicate it in the lawn, treat affected areas with triclopyr or 2, 4-D plus triclopyr .
Borders
Control oxalis as soon as you see it in garden borders, because chemical herbicides can cause damage to nongrassy ornamentals. Pull oxalis to prevent it from setting seed. Pre-emergent herbicides containing pendimethalin, oxadiazon or dithiopyr will help prevent seed germination.
Prevention
Oxalis is often found in nursery containers, so pull the weeds and discard them before taking new plants home. Keep lawns in good health with thick turf to prevent germination of oxalis in grass. A light layer of mulch helps control germination in borders. Don't put oxalis with seeds on the compost pile; bag them and put them out for collection.
Culinary Use
Sometimes called sour grass because of its tangy flavor, oxalis is edible. Oxalis contains oxalic acid and should be used in small quantities. Use sparingly on salads or as a garnish on savory dishes. Use only fresh plants that have not been in contact with chemicals.