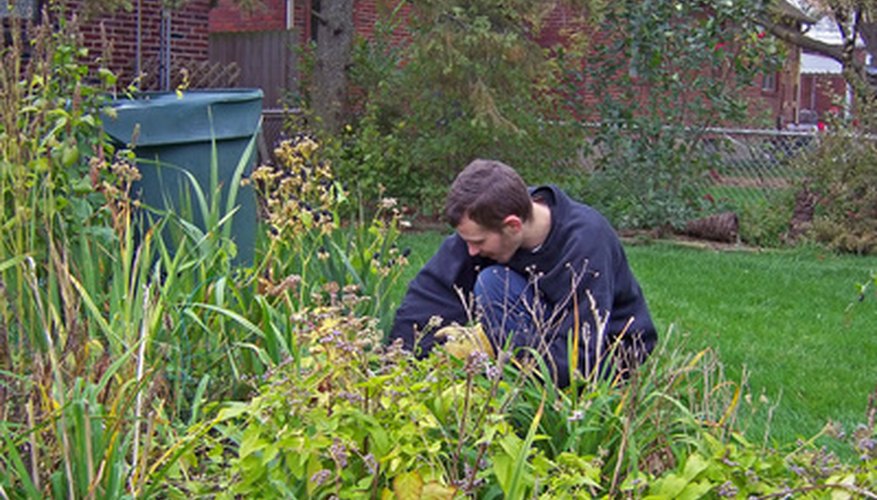 Roundup brand herbicide is a weed killer which you can purchase in most garden centers, including big lot stores. It is a non-selective herbicide, so it is important that you use it with care to avoid harm to your surrounding plants and lawn. Roundup claims to kill all types of weeds "to the root."
History
Monsanto manufactures Roundup brand herbicide, but Scotts Miracle-Gro is the exclusive marketing agent and distributor for the consumer brand Roundup. Monsanto is an agricultural company, which produces seeds and herbicides. John F. Queeny founded the company in 1901. Saccharine was its first product. In 1960, the company founded the agricultural division. It commercialized Roundup herbicide in 1976. Today the company focuses on agriculture and "supporting farmers around the world."
Types
Roundup offers a weed and grass killer for existing weeds and grass. It comes in a pre-mixed "pump and go" spray container, concentrated and super concentrated. Roundup offers an extended control weed and grass killer, which has a weed prevention to stop the growth of new weeds. It also comes in a pre-mixed "pump and go" spray container and concentrated. Roundup Poison Ivy & Tough Brush Killer Plus kills poison ivy, poison oak and brush. It also comes in a "pump and go" spray container, as well as concentrated.
Effects
Roundup herbicides contain the ingredient glyphosate, which is a "broad-spectrum non-selective systemic herbicide," according to the cooperative extension office of Cornell University. It can cause eye and skin irritation, so consumers should use precaution when applying the herbicide to weeds. The toxicity of glyphosate is low with little or no harm to animals, birds or fish. The Environmental Protection Agency states, "Glyphosate is not carcinogenic in humans." Roundup products contain 1 to 2 percent glyphosate.
Use
Use Roundup on calm days when there is little wind.The fastest results are on sunny days when the temperature is above 60 degrees Fahrenheit. Hold the spray close to the ground and avoid spraying plants, flowers, and the surrounding lawn. Spray the weeds until they are thoroughly wet. Within 10 to 30 minutes of spraying the weeds, rain will not wash off the herbicide. The shelf life of Roundup weed killer is four years.
Warning
Because Roundup Extended Control Weed & Grass Killer prevents new weeds from growing for up to four months, it is important not to spray the weed killer in areas you intend to use. Do not spray it near young plants or in areas where you will begin growing plants within four months of spraying weeds. Roundup Poison Ivy & Tough Brush Killer Plus may cause eye irritation, so avoid eye contact. Wash hands and exposed skin with soap and water after handling the herbicide.
Guarantee
Roundup products carry a guarantee that it will kill weeds. The consumer guarantee states that the manufacturer will replace or refund the cost of the product if you are not satisfied. You need to send the original proof of purchase to the company.