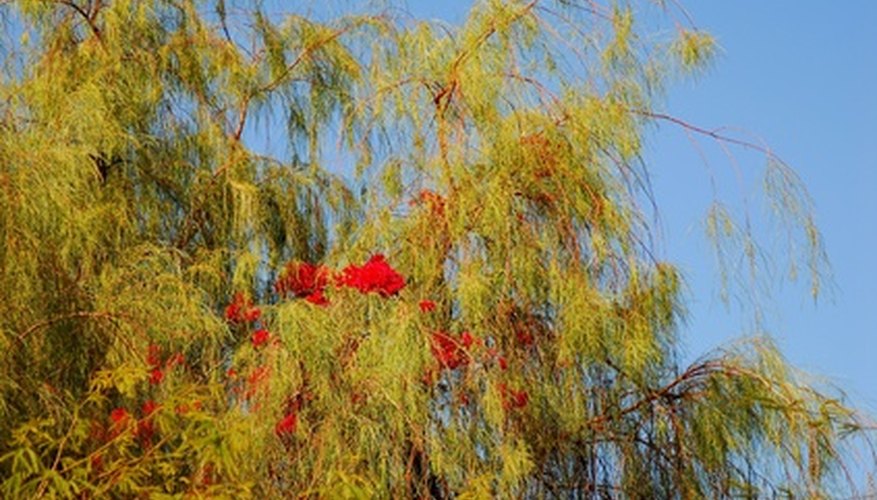 Weeping trees enhance the landscape with their ornamental features and provide a focal point in the garden. These trees feature flexible limbs that cascade downwards towards the ground, creating a weeping effect. Dwarf varieties of many weeping trees exist that resemble and provide the advantages of standard weeping trees.
Dwarf Trees
Horticulturalists create dwarf trees by grafting nursery stock to the roots of smaller specimens. The resulting plant is a tree that resembles the standard-sized tree but takes less space in the garden and is easier to care for. Depending on the variety, some weeping dwarf trees produce flowers while others do not.
Features
Dwarf weeping trees generally grow between 10 to 12 feet high, although some varieties are smaller than 5 feet while others grow up to 15 feet. These trees feature an umbrella-shaped canopy. Unlike standard trees, the shallow root systems of dwarf varieties enable gardeners to grow them successfully in container gardens and limited spaces.
Types
There are many types of dwarf weeping trees that add varied color, shape and texture to the garden. Some varieties include 'Molten Lava,' 'Red Jade' and 'Louisa' crabapple trees; Higan weeping cherry tree and 'Snow Fountain' cherry trees; weeping pussy willow tree, Young's weeping birch, weeping mulberry tree, weeping hemlock, dwarf weeping pine tree and Siberian weeping peabrushes.
Advantages
Dwarf weeping trees provide vibrant color and shape to a garden space. The shallow root system of these accent plants, along with their limited height and spread, allow gardeners to plant them near houses without any danger of weakening the foundation or underground utility lines, or in large containers to spruce up dull patios or porches. These trees are easy to care for and maintain, requiring little water, fertilizer and mulch.
Ornamental Plantings
Each ornamental dwarf weeping tree adds a personal touch to the landscape. Weeping Higan Cherry trees planted in well-drained soil produce beautiful white and pink blossoms, while one variety of weeping mulberry produces edible fruit and attracts beautiful birds. The 'Red Jade' features a twisted trunk and produces white blossoms that turn into inedible red fruit. Young's weeping birch grows up to 12 feet in height and adds value to the surrounding landscape due to its white bark.
Considerations
The shallow root systems of dwarf weeping trees make them susceptible to toppling over with strong winds, which is why most require permanent support or staking of some sort.