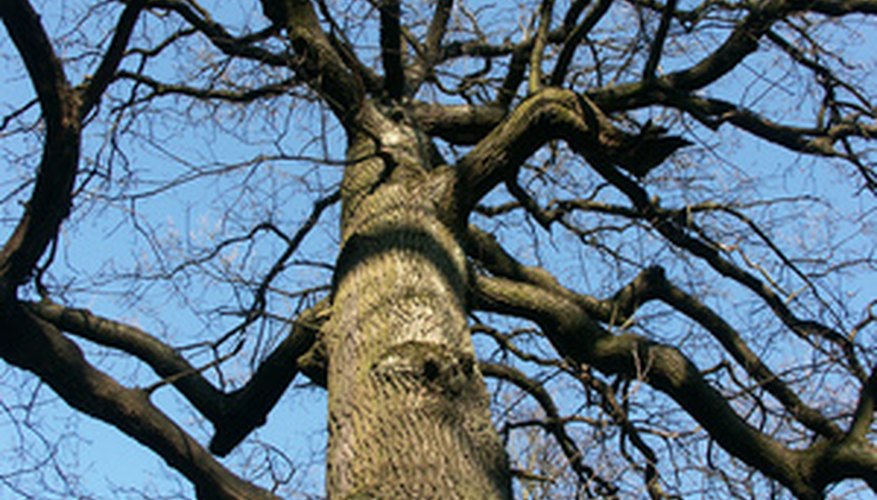 Although mulch and hardwood can be very different, the bark of hardwood trees can sometimes be used as mulch. The lumber of hardwood trees is, however, generally too valuable to use as mulch. Hardwood lumber is usually reserved for making furniture or thin layers of wood, called veneers, that are glued to the surface of furniture to give the appearance of solid hardwood.
Function
Mulch is a substance that you place on parts of your garden to help the soil retain moisture and help reduce problems with weed growth. By adding an inch or two of mulch to areas prone to weed growth, young weeds are starved of sunlight and can't grow. Hardwood, on the other hand, is the wood of certain types of trees, like oak, ash, alder and many others. It is most commonly used in furniture making. However, the bark of many hardwood tree species is often shredded for use as a mulch.
Types
There are many different types of mulch. The two general types are organic and inorganic. Inorganic mulch can be plastic, stone, or landscape fabric. Organic mulch includes straw, wood chips, leaves, grass clippings, or shredded hardwood bark. Hardwood is lumber that comes from certain species of trees. It is generally harder than softwoods, such as pine and cedar.
Potential
By using the bark of hardwood trees, a part of the tree previously discarded, as mulch, sawmills have another potential source of income. Because mixed hardwood mulch looks very much like soil from a distance, it has the potential to create very natural looking landscapes. By mulching the bark when milling hardwood trees into lumber, waste is also reduced.
Misconceptions
Although some people think that hardwood is shredded in the making of hardwood mulch, it is primarily tree bark. However, because there may be some wood attached to the bark, hardwood mulch also contains some hardwood fibers. The amount of fiber will depend on how the mulch was made.
Considerations
Hardwood tree mulch can contain a lot of cellulose from the wood that underlies the bark, according to Ohio State University. If the smaller bits of this wood aren't removed during manufacturing, it can rot too quickly and cause issues with mold and mildew in shady areas. Don't buy hardwood mulches that have particles less than 3/4 of an inch in diameter.