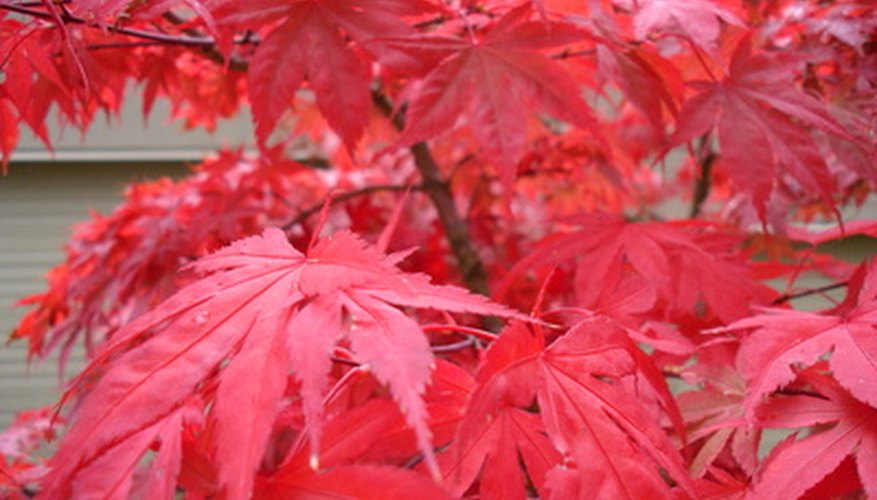 Dwarf Japanese maples are ideal specimen trees for a small garden or yard. Japanese maple (Acer palmatum) are hardy to USDA zones 5 through 8 and prefer to be planted in areas where they will get afternoon shade; the sun at the hottest part of the day can damage them. Whether you are looking to recreate a Japanese-themed garden or find an interesting tree for your yard, dwarf Japanese maples are available in a number of cultivars for a color and size that's right for your particular growing conditions.
Shaina
"Shaina" is an award-winning variety that reaches to around 5 feet full grown. With two-toned red leaves and a dense, globe shape of foliage, Shaina is an excellent backdrop for an all-season garden. Leaves start out bright red in the spring, turn purple in summer and to a crimson-red in fall. Shaina is suitable for both container-growing and landscaping in zones 6 through 8.
Viridis
"Viridis" is a weeping, bush-like dwarf Japanese maple that grows up to 10 feet tall. This green lace-leafed sweeper can also span out over 10 feet wide and is often used by landscapers to complement red-leafed Japanese maples. Hardy in zones 5 through 9, Viridis offers golden-yellow autumn foliage with a tint of red.
Ever Red
"Ever Red" is a taller dwarf variety that can top out at 10 feet tall but stays more compact than Viridis. Ever Red is a lace-leaf weeping tree that has a unique silver tint to new leaves. As its name suggests, Ever Red stays red through three seasons. Hardy from zones 5 to 9, it's popular along water features and used as a container plant.
Resources