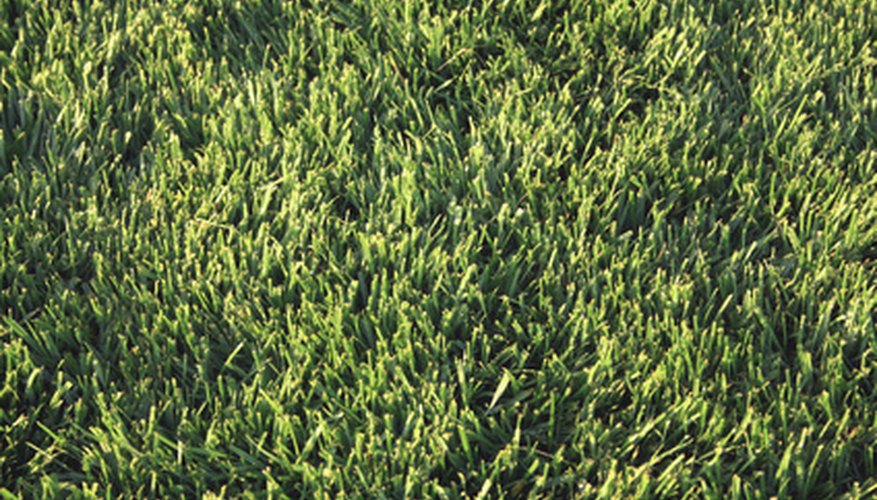 A thick, lush and green lawn is inviting and appealing. But bare or sparse areas of grass can be disappointing. You can grow a lawn by laying sod, hand sowing grass seed or using hydroseeding. Which method you select may make the difference.
Function
The function of applying hydroseed grass seed is to seed a large area with a high and quick germination rate. Hydroseeding is also ideal for hillsides and slopes where erosion can make it difficult to establish hand-sown grass seed. For small areas that need grass seeding, hand sowing is more practical and cost effective.
Features
Hydroseeding is a blend of seed, water, fertilizer and fiber mulch that is sprayed on the desired area in a slurry using hydraulic planting equipment. Because of this formulated mixture, seeds germinates very rapidly, usually within a week, and mowing might be needed in about four weeks. Once the hydroseed is applied, no additional work is needed because the micro-environment is formulated to create perfect seed germination. However, hand sowing grass allows you to select a specific grass variety that may not be available in hydroseed. Hand-sown grass seed will develop a deeper, stronger root system.
Effects
Hydroseeding will completely and thoroughly cover the area with the slurry mix. The fiber mulch that encases the seed retains moisture and accelerates germination. Hand-sown seeds may be distributed unevenly, leaving bare and sparse spots in the area. Grass sown by hand will demand more precision and work. The weather, seed depth, moisture and birds feeding on freshly seeded areas all effect the success of hand-sown grass.
Benefits
The initial application of hydroseeding is fast and will completely cover any type of lawn terrain, including slopes. The hydroseeds germinated rapidly, creating a dense, lush lawn that resembles a sod-laid lawn, without the expense of sod. Sowing grass by hand is far less expensive than hydroseeding.
Considerations
Both hydroseeding and hand seeding must be done when weather conditions are conducive. Hard rain, high wind or extended high temperatures can cause poor growth. For the best success and germination of seeds, planting should be done at the beginning of the grass growing season. The soil must be prepared prior to using either planting method.