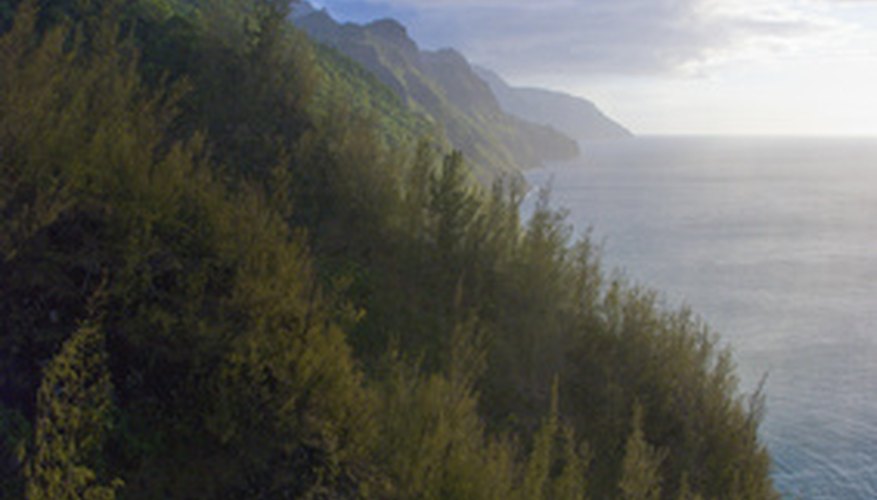 Hawaii has a year-round growing climate that makes frost control unnecessary, but many factors can make growing certain fruits and vegetables a challenge. Soils can be poor or nonexistent, insect pests are rampant and large amounts of rainfall can cause rotting of crops such as squash and tomatoes. Hydroponics is proving to be a solution for growers and consumers who want traditional food crops grown locally.
History
Hydroponics is not a new method of growing plants. More than 300 years ago, a scientist in England experimented with growing plants in water containing different nutrients, and succeeded in changing beliefs about how plants grow and what they need to become large and healthy. In Hawaii, hydroponics has been used commercially for crops such as lettuce that are sold at farmers markets since the 1990s.
Significance
Hydroponic growing environments can be set up in protected areas where the effects of rainfall, intense sun, destructive insects and other factors that adversely affect plants can be eliminated or controlled. Screen houses are often used for hydroponics. These greenhouse-like structures have clear plastic or fiberglass roofs and screen enclosing the sides, which effectively keep out insect pests. This situation overcomes the environmental challenges that can occur in Hawaii and makes the growing of crops such as tomatoes possible. Without protection, fruit flies decimate forming tomato fruits.
Size of Operation
Wherever you travel around the Island state, you're likely to find a hydroponics store, whether you're on Oahu, Maui or the Big Island. The GrowShop website lists a number of hydroponics specialty stores on the major islands. Such stores are tailored for individuals who want to grow a few plants and learn to use the hydroponic method. The number of commercial growers that offer hydroponic lettuce, tomatoes and other vegetables at farmers markets and specialty stores is growing all the time.
Benefits
When plants are grown hydroponically, many pests and diseases that are associated with soil are eliminated. Costs are reduced because insecticides and herbicides are not needed, which makes organic vegetables possible when they are grown using this method. When plants are grown underneath a protective cover such as plastic or fiberglass, molds and fungal diseases are also reduced significantly. Many crops cannot survive Hawaii's insects, rain and humidity. Growing hydroponically has given the Island state a better selection of fresh, local produce.
Crops Being Grown
Hamakua Springs is a large commercial farm on the Big Island of Hawaii. It uses hydroponics to grow a variety of vegetable crops, including several varieties of lettuce, tomatoes and cucumbers. All of these crops are typical of vegetables that have a hard time growing in soil without protection from rain and insect pests. Even rats will eat crops such as cucumbers and tomatoes, so protection in hydroponic growing environments results in larger harvests.