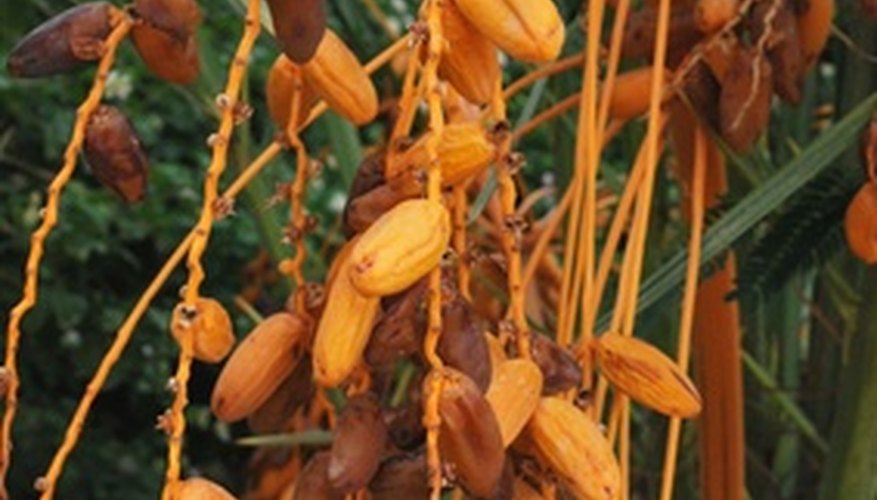 Several species of date palms exist, most of which are native to Africa. They all belong to the Phoenix genus of palms. The African date palm (Phoenix dactylifera), Senegal date palm (Phoenix reclinata) and Canary Island date palm (Phoenix canariensis) are three of the common date-producing palms that are cultivated for their sweet fruit. When their fruit drops prematurely, harvests are adversely affected.
Significance
When forming fruit drops from any tree, the harvest will not be as large as with trees that do not drop small fruits early in their productive season. This situation can adversely affect commercial ventures devoted to the cultivation of dates and can cause significant financial losses in the economies of developing countries where dates are commonly grown as cash crops.
Causes
Fruit can drop from date palm trees for several reasons. Natural fruit drop occurs during the growth of the dates on trees and is not usually a serious problem. The Coccotrypes dactyliperda is a type of bark beetle that can attack date palm trees. This insect typically attacks forming fruit before it is ripe, causing it to drop from the tree. The Nitidulid sap beetle is another pest that has been a problem in date palm plantations during the summer growing season. It eats ripening fruit, causing it to drop and rot on the ground. This beetle does not eat green fruit. The Old World date mite is another insect that can cause severe occurrence of fruit drop in date palms, according to the United Nations Food and Agriculture Organization.
Effects
Fruit drop that occurs as a result of beetle damage can amount to a loss of up to 40 percent of a date palm's fruit, according to an article titled "Fruit Drop and Damage in Dates," published in the journal "Phytoparasitica" in 1976. Fruit that does not drop can become rotten because of insect attacks that leave the ripening fruit vulnerable to bacteria.
Prevention/Solution
Tying netting around the forming bunches of dates was a successful method of protecting the fruit from beetles, according to an article titled "Fruit Drop and Damage in Dates," published in the journal Phytoparasitica in 1976. The United Nations Food and Agriculture Organization reported that the Old World date mite causes more extensive damage to trees in plantations that have been abandoned and are neglected than in growing situations where date palm trees are kept healthy through proper water, fertilizer and other care.
Control
At the Second International Conference on Date Palms, held in the United Arab Emirates in March 2001, researchers reported that when the forming fruit on date palm trees was thinned, fruit drop was "significantly reduced." The smallest amount of fruit drop occurred when growers removed about one third of the strands contained inside bunches of forming dates. The article "Fruit Drop and Damage in Dates," published in the journal Phytoparasitica, concluded that certain organophosphorus insecticides have been shown effective in controlling the nitidulid beetle, but most growers prefer mechanical controls such as thinning fruit and tying netting over forming bunches. A sulfur dust has also been shown to be effective in controlling the date mite, if it is done in July.