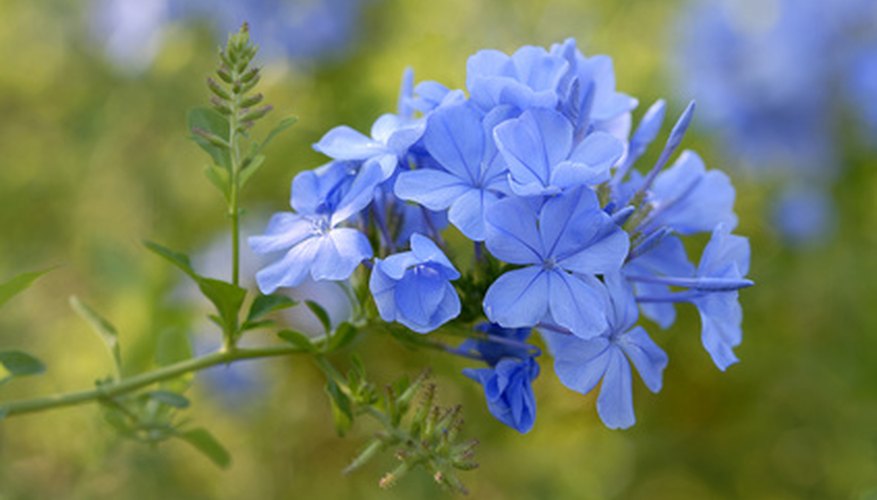 Plumbago or leadwort is a genus comprised of 10 species, five of which are native to South Africa. It is a part of the Plumbago or Plumbaginnaceae family, and is related to other common ornamental plants like statice and thrift. Plumbagos are shrubby plants, some of which can also be grown as climbers, given appropriate support. The flowers are normally blue, but may also be white or pink. Each blossom is comprised of a tube that is flared at the top and divided into five segments. The flowers appear in clusters at the ends of the stems. The genus has an interesting history as both an ornamental and a medicinal plant.
Early References
Though South African plumbago species were not discovered until the 18th century, plumbago was mentioned by the Roman naturalist, Pliny the Elder, in the first century BC. According to authors A.T. Johnson and H.A. Smith, in their 1931 book, "Plant Names Simplified, Their Pronunciation, Derivation and Meaning," the Latin name comes from the word "plumbum", meaning "lead." Pliny wrote that the plant might be used to treat cases of lead poisoning. The common name, "leadwort" is derived from the Latin name.
History: India
An Indian plumbago species, Plumbago zeylanica, has been used for hundreds of years in traditional ayurvedic medicine, according to online resource Spices and Medicinal Herbs.. Preparations of the root bark and leaves were considered to be anti-microbial and anti-oxidant. They were used to treat a number of conditions including cancer and inflammation.
History: Western Europe
South Africa's Cape of Good Hope became a Dutch colony in 1652. Because the Dutch East India Company traded with many other Dutch colonies, Plumbago auriculata was already growing as an ornamental plant in the East Indies when it was discovered by French botanist, Jean-Baptiste Lamarke in 1786. Lamarke named the blue-flowered plant "Plumbago auriculata," probably a reference to the ear-shaped leaf bases, according to the South African National Biodiversity Institute .
Traditional South African Uses
In its native South Africa, plumbago preparations were used externally to treat warts, broken bones and wounds. Snuff made from the plant was also used to treat headaches. Some South Africans may also have ascribed less tangible qualities to the plant, inserting branches into the thatch of huts to ward off lightening strikes.
European Medicinal Uses
In the 19th century, Europeans made plumbago preparations and used them as toothache remedies and skin astringents.According to Mrs. M. Grieve in "A Modern Herbal." The toothache association was so strong that the French referred to the plant as "dentelaire.."